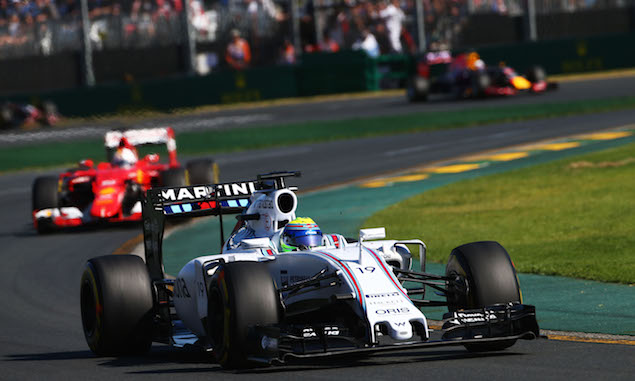 Felipe Massa says Williams needs to regain its top speed advantage to be able to beat Ferrari this year.
Sebastian Vettel finished third ahead of Massa in the Australian Grand Prix as Ferrari showed a major step forward in competitiveness compared to 2014. With the two teams closely matched, Massa says Williams has lost its main advantage of impressive straight line speed from last season.
"I think the only that we see is that we don't have an advantage on the straight anymore," Massa said. "The only thing that Ferrari shows that they have improved massively is the engine, they have a much better system, a much better engine compared to last year.
"So last year we had a car that we were losing in the corners, we had less downforce than Ferrari, but we were gaining on the straights. For sure, this year the car is much better in terms of downforce and better in the corners, so we already finish in a good way, but how we start we are losing massively.
"We were compensating the speed we were gaining on the straight, but this time we don't have this difference on the straight anymore. We need to work as strong as we can because we are fighting with a top team that has a big possibility financially to develop the car. I am really thinking we can do it though."
Click here for Thursday's gallery from the Malaysian Grand Prix
Keep up to date with all the F1 news via Facebook and Twitter