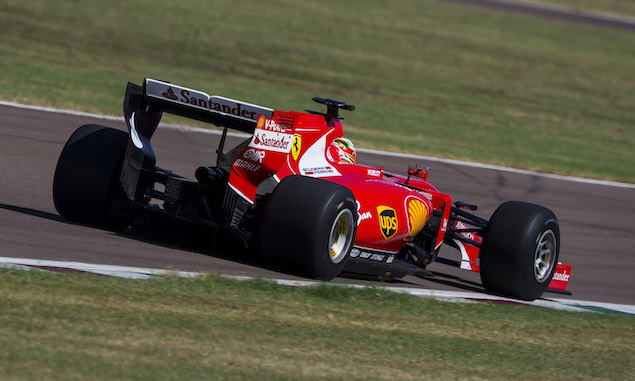 Ross Brawn worries the 2017 regulations will not see an improvement in racing due to the increase in aerodynamic performance.
New aerodynamics - combined with wider tyres - are expected to see lap times up to five seconds faster next season, with the regulations intended to make the cars more challenging for drivers. Brawn ,who has admitted he would be interested in a role shaping technical regulations in future, hopes the physical aspect will improve the racing because he fears the aerodynamics could hurt the ability of follow another car.
"What one hopes is that it improves the racing from the point of view that it is much more challenging for the drivers physically," Brawn told ESPN. "To drive that car at maximum speed for 50, 60 or 70 laps is going to be very challenging for the drivers. Therefore, I think you'll see more variation during a race of drivers fatiguing and losing performance -- that will be a positive element.
"Most of the performance gain -- there will be some gain from tyres -- but most of the performance gain appears to be from aerodynamic benefits and I'm always a little bit nervous about that because of the relationship between the cars on the track.
"The more aerodynamic performance you create, the more sensitive you are to the wake of the car in front. It's not always the case, because the aerodynamics can be profiled and shaped and managed to reduce that impact, but inherently that is the case. So I hope these regulations aren't going to impact the ability of these cars to race together.
"And they are going to be very quick! If everyone was saying the target was going to be three seconds per lap then you can guarantee it will be five seconds, because that is Formula One. In the calm of a meeting room, everyone can agree to the changes that they think mean three seconds a lap, but once the engineers get stuck in after a year of two it will be five seconds a lap. So the cars are going to be very quick next year."
TECHNICAL ANALYSIS - Interlagos
Scene at the Brazilian Grand Prix
Quotes of the week - Interlagos
2016 Brazilian Grand Prix - Driver ratings
Keep up to date with all the F1 news via Facebook and Twitter