The best quotes from the three-hour long Brazilian Grand Prix include Kevin Magnussen talking about the Pope, and a threat from Fernando Alonso
"I think at one point, the Pope had an offer I heard!"
The driver market took off like a rocket in the days leading up to Brazil. The always laid-back Kevin Magnussen had this take on who might drive for Renault next year, explaining why he turned them down.
---
"The drivers need to take a rulebook with them really on a Sunday now in the car and consult it before they either defend or make an overtaking manoeuvre."
In Friday's FIA press conference, Red Bull's Christian Horner was swelling the ranks of those who feel the on-track action is becoming too regulated right now.
---
"To be honest the last lap it was pretty average from my viewpoint."
Kimi Raikkonen after qualifying clearly had a different take on his lap to that of his team, who Tweeted that the Finn said "… it was a pretty amazing lap…"
---
"We've really sorted those problems!"
Jenson Button can't wait for the end of the season judging by several remarks over the course of the Brazilian weekend. This was his radio message coming into the pits having failed to get any further than Q1 on Saturday afternoon. Then came…
"I haven't forgotten how to drive in the rain"
When Button felt that neither the full wet tyres nor the inters were giving him any grip in the race.
---
"I think it is total rubbish. If Toto wants to have a race for his drivers we can do that at 11am then we can have the grand prix at 2pm where everybody can race."
Christian Horner was clearly not impressed with the fact that Mercedes' Toto Wolff rang Max Verstappen's dad Jos for a "chat" in the week leading up to Brazil.
But the Red Bull boss saw the funny side when the Dutchman passed Rosberg in the early stages of the race, coming on the radio to tell Sky Sports F1:
"He didn't call Toto to ask if he could do that!"
---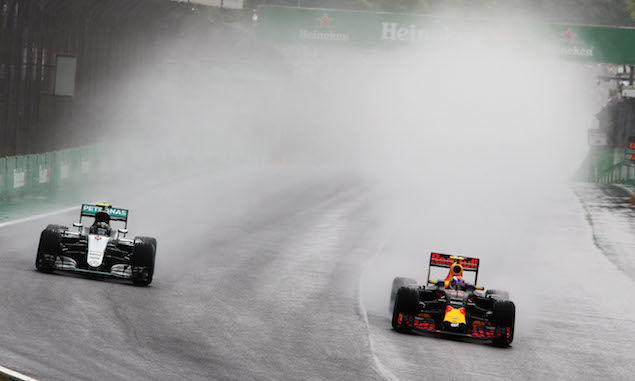 "My heartbeat went a bit higher then."
That's all Max Verstappen had to say about the save of the century, when he just managed to avoid spinning into the wall. Even then, he sounded as though he was in front of a TV playing a computer game.
---
Q: "One race to go Nico, it's a title decider. No more one race at a time…"
NR: "Why not?!"
Q: "Because it's the last race…"
NR: "Who are you to tell me how I approach my last race?!"
Nico Rosberg jokes with a journalist who brought up the German's stock one-race-at-a-time answer. At least he didn't respond "I'm not thinking about that"
---
"There was an asphalt run-off and I used it and nothing happened. But if there's a wall there, I either drive into the wall or into him, which is what I will probably do next time ... I'll crash into him and he will lose more points than me.
"It's okay. You just use the asphalt run-off and that's it. But one day we'll have to drive into him so he realises that the track belongs to everybody."
Sebastian Vettel has four world titles and Fernando Alonso has two, but it was handbags at dusk in Interlagos after the race, as the Spaniard believes the German needs driving lessons after he was pushed off the track by the Ferrari man. 
2016 Brazilian Grand Prix - Driver ratings
FULL REPORT: Hamilton wins delayed Brazilian GP to take title to wire
Silbermann says ... I'm going AWOL
Romain Grosjean column: Time for Haas to raise its game
INTERVIEW: Fernando Alonso: Why F1 is no longer just for heroes
Keep up to date with all the F1 news via Facebook and Twitter