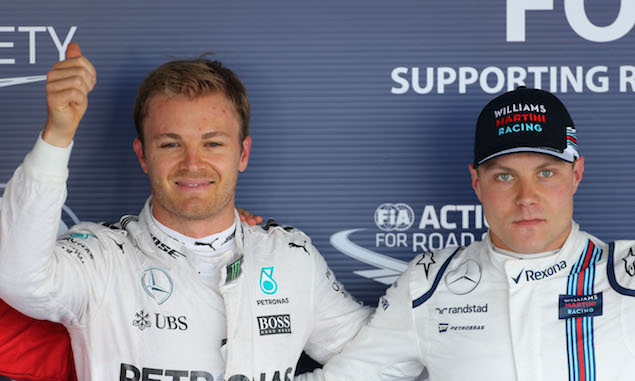 Valtteri Bottas has emerged as the frontrunner to replace Nico Rosberg in 2017, with Mercedes failing with an approach to sign the Finn according to reports.
Rosberg's retirement has left Mercedes with the difficult task of replacing the 2016 drivers' champion during the off-season, with the majority of drivers already under contract. While Bottas is tied to Williams at present, the 27-year-old is partly managed by Toto Wolff and has become one of Mercedes' top candidates for the seat ahead of youngster Pascal Wehrlein.
Both the BBC and Sky Sports report Mercedes has made an approach for Bottas but has had its initial offer rejected by Williams.
When contacted by F1i, Williams declined to comment on the reports, simply adding: "We have announced our 2017 drivers as Valtteri and Lance."
For Williams, the concern is losing its experienced driver, with Felipe Massa being replaced by 18-year-old rookie Lance Stroll in 2017. To lose Bottas would leave the team with either Wehrlein or former test driver Felipe Nasr as the most likely replacements, with the former only having completed one season racing in F1 and Nasr two.
Wolff recently told Sky Sports a move for Bottas would be difficult due to his importance to Williams.
"Besides the personal relationship, where he's a very likeable and intelligent driver, he's also somebody who is very, very fast," Wolff said. "But he's with Williams now, the lead driver, and is very important for the combination with Lance Stroll. Claire [Williams] and her team very much rely on him."
The news comes following further reports linking Mercedes executive director (technical) Paddy Lowe with a move to Williams, with the technical leader's contract due to expire at the end of this month.
Silbermann says ... Ignore Flavio, get Alonso in
INTERVIEW: Stoffel Vandoorne: The long wait is over
TECHNICAL: Under the skin of the Force India VJM09
FEATURE: Nico Rosberg in numbers
Keep up to date with all the F1 news via Facebook and Twitter