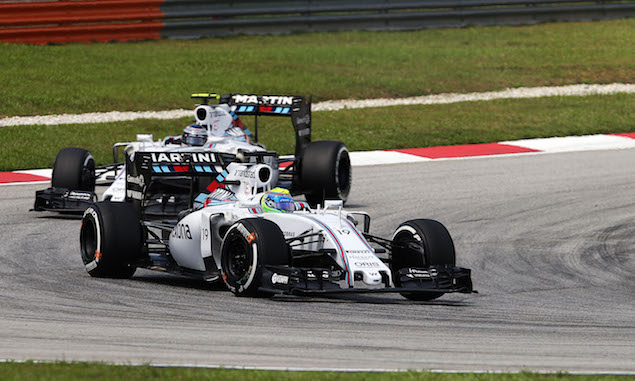 Rob Smedley admits he was concerned to see Williams a minute adrift of race winner Sebastian Vettel in the Malaysian Grand Prix.
Vettel's shock victory came with an advantage of more than eight seconds over Lewis Hamilton as he comfortably beat the two Mercedes cars. The top three were dominant over the rest of the field, with Nico Rosberg in third a minute clear of the Williams cars in fifth and sixth places, and Smedley admits it's a gap which worries him.
"Yeah, of course I'm concerned," Smedley said. "To be 60 seconds down at the end of the race, absolutely it's a concern. It would be remiss of me to say I wasn't concerned about that.
"But there's certain bits of it, like the fact that Sebastian could do one less stop than us has certainly helped in that minute, so that's where we need to start concentrating. At the same time we need to develop the car package from front to back, you need to keep pushing on with that.
"It's a concern – if anyone is in front it's a concern, no matter what colour their car is. We just have to keep pushing on and make sure we're developing at a faster rate than them. If we do that, we close a gap, it's that simple."
Click here for a more lighthearted look at some of the scenes from the Malaysian Grand Prix
Keep up to date with all the F1 news via Facebook and Twitter