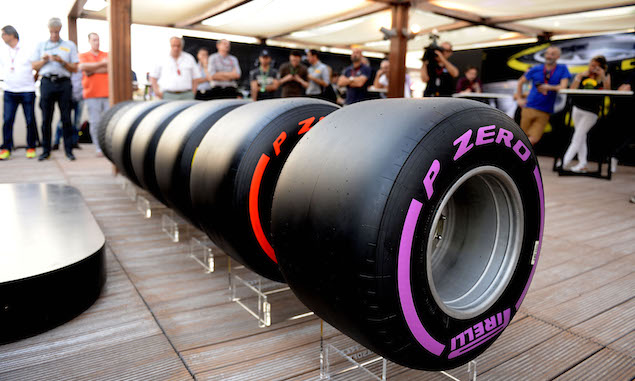 Pirelli has named the tyre compounds it will take to the first two races of the 2017 F1 season, with the ultrasoft being used in Australia.
2017 will see new tyre regulations introduced, with wider tyres designed to help increase cornering speeds. With tyres needing to be selected 15 weeks ahead of flyaway races, the first two - in Australia and China - have already been nominated by Pirelli.
The tyre manufacturer has opted to go one step softer for the race in Melbourne than it did in 2016, with the soft, supersoft and ultrasoft tyres being selected. Of these, one set or softs and one set of supersofts must be saved for the race, while one set of ultrasofts are required for use in Q3.
The Chinese Grand Prix will be the second round on next year's calendar, taking place two weeks after Melbourne on April 9. For the race in Shanghai, Pirelli has nominated the medium, soft and supersoft tyre compounds, with a set of each of the harder two compounds again required to be available during the race. One set of supersofts must be saved for Q3.
The nominations are largely symbolic as Pirelli has previously announced all teams will have exactly the same tyre compounds allocated to them for the first five races of the season - consisting of two of the hardest compounds, four of the middle compound and seven of the softest - as an introduction to the new regulations.
2016 team-by-team review: Part two
2016 team-by-team review: Part one
Andrew Green: Force India's smooth operator
Keep up to date with all the F1 news via Facebook and Twitter