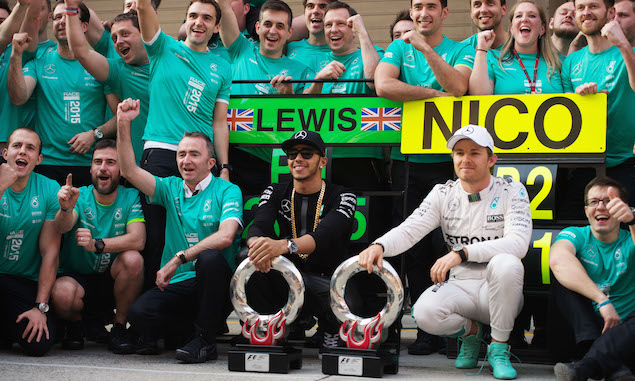 Toto Wolff says Lewis Hamilton did nothing wrong in the Chinese Grand Prix, following Nico Rosberg's criticism of his team-mate.
Rosberg accused race leader Hamilton of deliberately slowing more than required during the second stint, dropping the second Mercedes back in to the clutches of Sebastian Vettel. However, Wolff says the debrief has allowed the team to explain how the situation came about and insists Hamilton was not at fault.
"Lewis didn't do it on purpose, and we've cleared that now," Wolff said. "There wasn't any intention from Lewis to slow Nico down in order to make him finish third or worse - 100 per cent.
"He didn't know the gaps behind Nico. What he knew was we needed to run that tyre longer than we had done all weekend, and this is why he decided to slow the way he did. After a while we realised as a team this was putting us into trouble, putting Nico into trouble, risking the second place or worse.
"If Lewis had had a DNF we could have lost the race, so there were lots of thoughts on the pitwall about the possible consequences, and he didn't know that. So you can't really blame anybody."
Describing the post-race meeting as "a good debrief", Wolff says he feels both drivers were justified in their reactions during and after the race.
"It was good for Nico to complain, and good for Lewis to slow down. Lewis was the car in the lead, in control of the pace. We put on the option tyre when we expected the prime as we found out the option was lasting much better than expected, and much better than Ferrari, so we made sure we covered.
"So we put the option on, the driver realises that, but doesn't know what is going on behind him and controls his pace because he needs the option longer than expected, so from his point of view completely understandable.
"On the other side Nico was running into trouble because he was bunched up behind Lewis, he couldn't go near, so he asked for a two-second gap to Lewis to protect the tyres, which he did. At the same time Sebastian was increasing the pace behind him, so understandable from both of them."
Click here to look under the skin of the front-running 2015 cars 
Keep up to date with all the F1 news via Facebook and Twitter