Pirelli has been investigating Sebastian Vettel's tyre failure in the closing stages of the Belgian GP. Whatever the potential findings, Eric Silbermann suggests the tyre company should not be given a roasting.
After his tyre went AWOL and robbed him of third place in the Belgian Grand Prix, Sebastian Vettel, incandescent with rage, described the incident as "unacceptable". I'm not sure I agree.
In fact, I sometimes wonder why any tyre company takes on the task of being a sole supplier in motor racing, because the tendency is to only talk about the component that can produce the biggest lap time for the smallest expenditure of cash or time, when it fails.
Don't get me wrong, I fully understand how a driver as sanguine and easy going as Sebastian Vettel might get so upset that the anachronistic phrase "expletive deleted" could be tacked on to the end of his Sunday night tirade in Spa. However, I also have some sympathy for Pirelli in all this. Because, if Vettel had made it to the chequered flag in Belgium, he would have been hailed as a hero for nursing his rubberwear home and those in charge of his strategy – quite possibly the most over-rated role in the sport – would have been feted for their genius. However, no one would have had any words of praise for the Italian tyre manufacturer.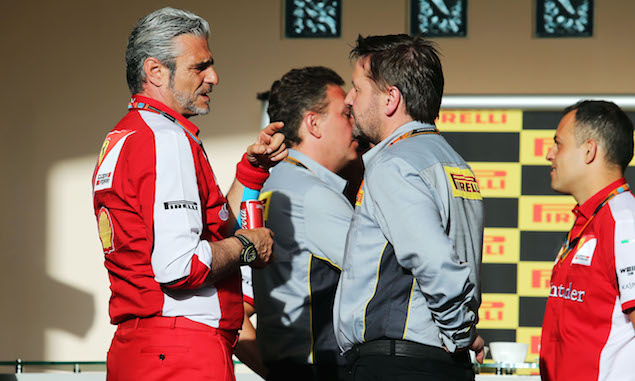 As the sole tyre supplier, Pirelli has to be all things to all men and scrupulously fair in the way it supplies all the teams. That's not something you could have said about Bridgestone's handling of Ferrari in the era when the Japanese company almost begrudgingly supplied a few other teams as they fought their Michelin-shod opponents.
In any competitive environment, give someone an inch and they'll take a mile, which is why, in November 2013, Pirelli had suggested to the FIA that there should be a limit placed on tyre mileage of half a race distance for the harder compound on offer at any race and thirty percent for the softer one. Running tyres for too long is not the only action for which Pirelli has had to rap teams over the knuckles, because in the past, dropping the tyre pressures to a dangerously low level or running extreme levels of wheel camber have all been used to gain a performance advantage, while putting tyres under too much stress.
Tyres are always going to fail, because even if the tyre supplier, whichever it is, is going to impose safety-based restrictions on their use, the teams are always going to push them to the limits, just as they do with every other car component. There have been many high profile examples of that in recent years: in 2013, Pirelli had six tyres fail at the British GP, prompting a change of construction. Vettel – yes him again – had a tyre fail at Abu Dhabi in 2011 and of course there was the famous Indianapolis fiasco back in 2005. Back then the rules demanded that one set of tyres had to last the whole race, but after Ralf Schumacher had a tyre related crash in practice, Michelin realised it had a problem. The then FIA president, Max Mosley, put forward a proposal that only a lawyer could have thought up, namely that the Michelin runners should slow down at the two corners causing the problem!
Any of you who got up in the middle of the night in the hope of watching Nigel Mansell clinch the world championship crown in Adelaide in 1986 will never forget his Goodyear tyre exploding, handing the crown to Alain Prost. Yes, it's time for that most overused of motorsport clichés, "that's racing".
It's a phenomenon not limited to four wheels either. For the MotoGP race at Phillip Island (Australia) in 2013, the organisers insisted that every rider only use the harder compound and make a pit stop within a specific two-lap window, as the Bridgestones were falling apart during practice because of the huge loads imposed on the left hand side of the tyre at this track. The race was even shortened from 27 to 19 laps, and champion-elect Marc Marquez pitted one lap too late and was disqualified.
At the time, everyone was asking why Bridgestone hadn't bothered testing at this notoriously tough track. That's something we can't ask of Pirelli, given the ridiculously restrictive F1 testing rules. We race in an age when simulators and wind tunnels can replicate almost every aspect of a Formula 1 car's behaviour, so that engineers have a pretty good idea how things are going to go at any given race track. We no longer feel the need to have additional free practice when visiting a brand new circuit, as was the case a few years back. But the one component whose performance cannot really be simulated is the tyre: its interaction with the track surface is something that can only be guessed at.
In Pirelli's defence, it's clear that the low-life tyres we have in Formula 1 today are there because they were seen as a quick fix to make the racing more exciting with more pit stops and overtaking moves, as a driver on fresh rubber comes up behind a rival running on worn out tyres. Superficially, it's produced the desired result, but should we really be praising passing moves that owe everything to a big performance differential rather than to driving skill and balls? The current situation means that in the closing stages, when the cars are at their fastest and lightest and therefore most exciting to watch, drivers can't exploit those qualities because fuel must be saved and tyres need nursing to the flag. Why don't we go back to one set of tyres per race and allow a more generous fuel allowance so that racing drivers can race from lights out to chequered flag?
The post-race tyre row in Spa was down to the blame culture that is a sickness of modern life. Blaming someone is seen as a way to fix a problem, but it results in people being unwilling to use their initiative, kills motivation and wastes time. In a sport that is all about taking risks to achieve glory, we are now risk averse. Surely that can't work. Sorry Sebastian, a child dying every 15 seconds from malnutrition in the 21st century is unacceptable, a tyre blowing out in a motor race is simply unfortunate.
Click here for a look back at the 1971 Italian Grand Prix from Monza, when the top five cars were covered by just 0.61s.
F1 drivers' girlfriends gallery
Keep up to date with all the F1 news via Facebook and Twitter