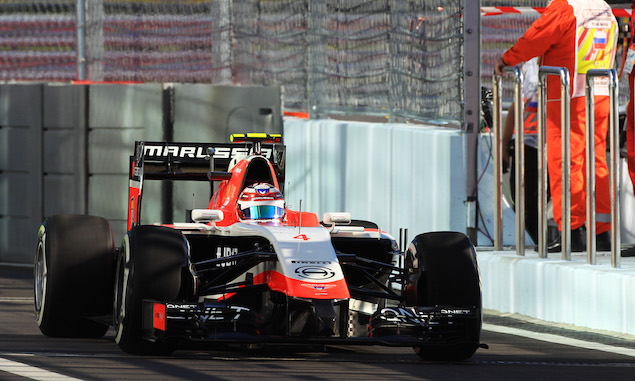 The return or otherwise of Marussia/Manor to the 2015 grid has generated a sizeable amount of debate over recent days, mostly in the form of some fairly understandable hand-wringing and breast-beating in defence of their plucky wish to rejoin the fray.
This is, after all, how we should react to an underdog being denied by overlords; no one likes to see the little guy getting his teeth handed to him by the playground bullies. The question though is whether in this case the little guy has a reasonable claim on the keys to the playground at all?
The first bar to that claim is that unfortunately the playground is no longer being run by the teachers. Instead, the rules are now being made by the big kids. In such a situation it's really no surprise that when a squirt comes looking to join the game, he's either going to be the last pick or he won't get picked at all. If ever there was an indictment of the malaise afflicting the governance of the sport then this might well be it.
To stretch the schoolyard analogy even further, it's no surprise that this little kid hasn't been picked, as to his detriment he has arrived at the playground gates with a fairly sizeable chunk of lunch money in his pocket, and at least one of the kids calling the shots finds himself in dire need of sustenance.
Barring admission is the only course of action that makes sense for those in control. To imagine that they would do otherwise is incredibly  naïve
In an environment in which the controlling powers have already decided that they're free to pick the pocket of a collapsed team should that team fail to gain admission, and in which a number of the schoolyard bullies are struggling to make ends meet, well, you don't have to be Einstein to work out that barring admission is the only course of action that makes sense for those in control. To imagine that they would do otherwise is incredibly naïve.
Opprobrium has been heaped upon Force India for blocking Manor's return but with rumours abounding that the Silverstone squad is itself in tricky financial straits the team cannot be blamed for attempting to grab a slice of a pie that had been tacitly promised to it (and its peers) several months ago.
Not that people want to try though. Former king of the minnows Giancarlo Minardi took to his own website to lambaste the Strategy Group's decision, saying that the block was "absurd and unsportsmanlike behaviour" and that the controlling teams have not thought it through.
"Get rid of the two Cinderellas – Marussia and Caterham and the grid shrinks," he said. "The last row would be occupied by teams with far greater budgets and ambitions, such as Force India, Sauber and Lotus. It could have serious consequences both commercially and in terms of team image."
This, though, doesn't wash. The goals here are far more short-term than November's Constructors' standings – in some respects this is simply about keeping the lights on for the next few months.
Sure, the argument is that when divided among that peer group the amounts involved are minuscule in the grand scheme of F1 budgets. That may well be true but I would conversely suggest that an impoverished man with 50 pounds worth of debt rarely turns down the gift of a fiver.
If such a windfall keeps the wolf from the door for a few more weeks or months then so be it. It is purely logical to place your own quantifiable short-term goals over the vague ambitions of a rival, or indeed to gamble on future F1 results.
If, however, we were to talk about gambling on results, then what team that has invested a full budget in a 2015 car would allow a modified 2014 car to race against it with the possibility existing that such a car might luck into points in a topsy-turvy race, while you remain pointless through the season and financially weakened the next. Too random a possibility? Sauber would probably beg to disagree.
Formula 1 is not a beneficent sport – never has been. A quick glance through the annals offers up any number of outfits that been allowed to slip off the back of the grid, despite the best efforts of those at the helm to keep them alive. And we're not talking about the chaotic days of 26-car grids and pre-qualifying here – when F1 was awash with fly by night operations racing on a fairly ropey set of wings and a prayer.
Nope, the past decade or so has seems teams like Super Aguri, Arrows and Prost collapse with few tears shed and these were teams with one or all of the following: emotional resonance, provenance and track record. Why, in Marussia's case, would anyone expect so Darwinian a sport to suddenly develop a keen sense of philanthropy?
Beyond personal finance, survival, competitive jealousy, and all the other self-interested but in many ways perfectly understandable reasons for Manor to be denied access there remains the issue of just what would the team bring to the party in terms of machinery.
Pirelli's Paul Hembery last month predicted a two to three-second improvement in lap time this season. While it's not altogether representative, Kimi Raikkonen's test-best time from Jerez last week was more than two seconds up on last year's opening test fastest time.
Last year in Germany [to choose a reasonably standard race] the fastest Marussia in qualifying was that of Jules Bianchi with a Q1 time 1:19.676. That was just over three seconds off Nico Rosberg's pole time. OK, so that's a harsh comparison. How about it being 1.2s shy of Daniil Kvyat's Q1 time in a Toro Rosso.
That's not so terrible but with another two to three seconds bolted on that gap it's thus hard to imagine how a modified Marussia MR03 would be anything other than a moving chicane in 2015.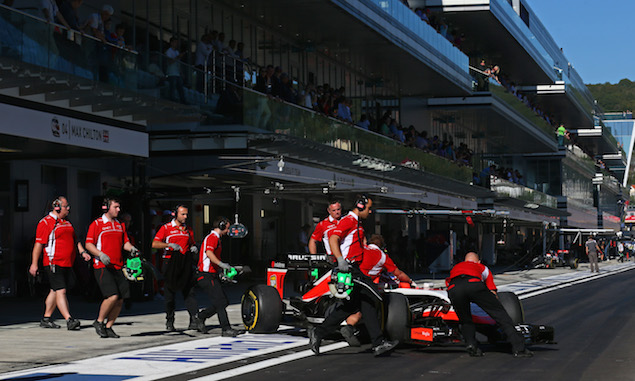 The team's path back has other questions attached. What race would they return at? Where and when will modification work on the 2014 chassis be done? The team says the Strategy Group gave approval for Marussia and Caterham to run 2014 cars if they "comply with all of the 2015 technical regulations, with the exception of four articles, those articles being Articles 3.7.9, 15.4.3, 15.4.4 and 16.2. The team can confirm that the modifications to its 2014 car would meet this stipulation'. Those rules specifically relate to the new nose cone regulations and crash testing, the areas where compliant teams have invested heavily and, by all accounts, head-scratchingly over the past months.
It's hard to deny the romance of Marussia's 'little team that could' tale as the people involved appear, for once, to be genuine racers who have worked incredibly hard to keep Marussia going. They have faced and overcome exceptional adversity over the past 12 months and they are determined to get back in the ring for another round. That takes real guts, real determination and real passion – and it has to be said real humanity in the desire to provide a livelihood for those let down by last year's collapse.
However, the sad fact remains that time and the exceptional burden of F1's current cost base are against them. Ranged against Manor too are rivals who are also struggling to bear that burden and who, through an extraordinary set of circumstances, now find themselves in control of the playground. They cannot be blamed for desperately clutching at any lifesaving flotsam and jetsam that pops up from the wreckage that is modern F1's business model. And while the sport continues to chart this course – of spiralling cost and cartel politicking – then there's no place for romance of any kind.
By Justin Hynes
Keep up to date with all the F1 news via Facebook and Twitter