Honda motorsport boss Yasuhisa Arai sits down with F1i to reflect on what has been a challenging first season back in F1 for the Japanese power unit manufacturer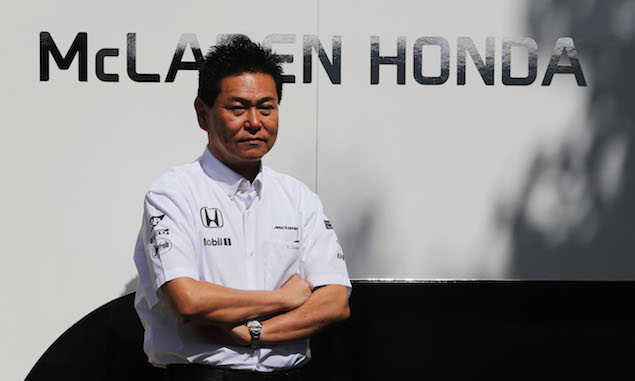 Last year in Abu Dhabi you ran the new power unit for the first time, at that point were you optimistic it would be a good year or expecting a difficult learning year?
"So a year ago I set a very optimistic forecast, but at that time I knew that there were many troubles ahead but most of all the difficulty at that time was with electrical issues. Wire harness or control unit etc. I thought that we could fix that. But after the fixes there were many issues regarding the hardware, the MGU-H, MGU-K, the ERS.
"At that moment [in Abu Dhabi] we were very positive but after that there were many issues and we realised it would be quite a difficult year after Abu Dhabi. Especially in winter testing at Jerez and Barcelona, where we began to see hardware trouble, ERS trouble, so I put away such an optimistic feelings from there onwards. Melbourne came quickly without us being able to prepare everything that we wanted, so it was a very sad start."
At that point did you feel you needed another year of learning or is that impossible until you put the power unit in the car and run it?
"If we waited another one year maybe there would still be the same issues and the same troubles we have had. Most of all now it is that we don't have enough experience on the track, so it is difficult to fix or find out final solutions quickly. Then you make misjudgements or mistakes, but we learned a lot during the year in 2015 so it was a steep learning curve. Maybe if we had waited one year it would still have been the same."
We have seen a lot of progress from Honda over the year but I remember you saying during an interview we did in Barcelona that the problems were like a pop-up game that you had to keep dealing with. Is that still the case or are you now solely focused on improvements?
"I think before the actual race in Barcelona that was a landmark. Before then we were dealing with the pop-up game. But after Barcelona of course we still had some issues but we fixed them very quickly and recovered. We could then work out what had happened and what to do in quite a normal way, which left us on a great learning curve and able to make big progress. That's from after the race in Barcelona until the end of the season."
If you look back to when you knew it would be a difficult year and had to change your expectations, are you at least pleased with the progress?
"From the results it is not enough. Not only in terms of position, but our target is still very far away. We want to chase Mercedes or Ferrari and the top teams, but we feel it is still a big gap so we need the time in the winter season to catch up to the top teams."
How has the relationship with McLaren been over the year? At times it has looked like it has been a bit difficult behind the scenes…
"I don't think so. We had very good communication from the beginning, from Abu Dhabi last year. We have had tight communication as one team and I feel it has been very good."
And the relationship must be working much better now compared to a year ago?
"Yes, much better now. The start point was a good relationship and we've become more tight, with more good communication and good progress. It's like a scrum, all together. It's very good."
How about inside Honda as a company? I imagine your bosses had high hopes, but did they know it was going to be difficult and have they been understanding?
"Both. Our top executives always have high expectations but we always explain what is happening at the track and circuit. So they understood everything. And the fans - Honda fans in Japan and worldwide - both of them have high expectations for McLaren-Honda due to the great history but in the meantime most of our fans understood our situation and are still encouraged. We take huge encouragement from the fans."
Has the history sometimes been a bad thing because people are comparing it to the dominance of the 1980s?
"I cannot change history, so it is something that I just have to accept."
How about the two drivers? Very experienced and demanding, they crave success. So how positive has it been to have the as part of the team but also how hard have they pushed Honda this year?
"We feel a good pressure all the time. Good pressure from both great drivers, also from McLaren. I think it's a normal situation and we are always having open discussions about what happened, which direction we should go etc. It's very good communication and they understood everything, so we keep the philosophy and concept of the size zero package and we improve on it next year to have a more sophisticated size zero."
Even smaller?
"It's very difficult because we're almost at zero! But we use that particular design, a very specific and aggressive design, and we should keep that. We need more improvement but during this year I felt a big improvement on both sides, the engine and the chassis and aero. At every race we tried a lot of parts and we have a lot of data, and I hope that we can make a better package for next year."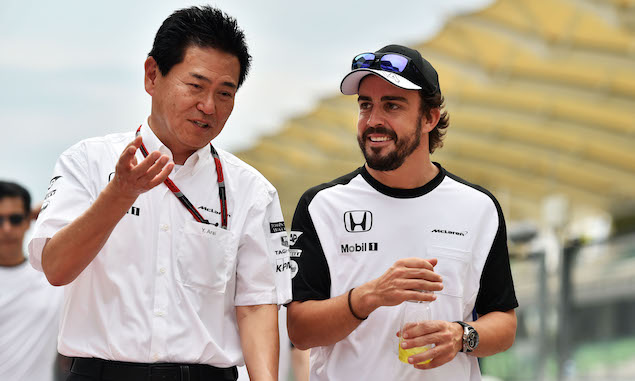 What is the biggest positive of this season?
"As an actual race I'd say round five in Spain and round 16 in Austin. in Austin we felt progress on the track, so that was a very good, impressive race. Also in the middle of the season in August we found out what our weak point was in a more concrete way. Even though we understood that our package's weakness came from the MGU-H and ERS deployment, it had been a struggle to pinpoint the cause. Fortunately, in August everything became clear and we were free to start fully rectifying the situation.
"It had a huge impact because with the discovery we realised that in the races and testing we need more energy to actually use the deployment. But in the meantime we feel we cannot change the turbo and the MGU-H in the actual season because it is a layout issue, so it is very difficult to change everything. So we realised it but could not change it."
Was that frustrating?
"Yes it was frustrating. But to find out which direction we should go meant we immediately understood and on that side the work for next year started."
My biggest race: Roberto Moreno
Romain Grosjean exclusive: From Lotus to Haas
Use the red tabs on either side of the screen to scroll through more Formula One news and features
Click here for a gallery of the McLaren MP4-X
Keep up to date with all the F1 news via Facebook and Twitter