F1i's resident grumpy old git - Eric Silbermann - reflects on the 2015 season and hopes F1 is heading in a different direction from the end of next year
I had a damp patch. For months I had a damp patch in one corner of my living room. I tried to ignore it, I stuck the wallpaper back down with sellotape, I put a piece of furniture in front of it, but eventually the damp started to smell. I had to call in the builders who ripped all the paper off, then the crumbling plaster, before drilling holes and injecting stuff into the walls. It was a traumatic process both physically and financially, but it was worth it in the end and I wondered why I hadn't done it ages earlier when it would have been less costly. In 2015, after a few years of painting over the damp, Formula 1 started to smell bad and the damp patch got too big to hide.
Who's to blame? Well here's the thing, my mother always accused my father of being the only one to break glasses and crockery in our house, to which the logical reply was that he was the only one doing the washing up. So while it's fair to lay some of the blame for F1's current woes at the feet, the dainty little feet, of Bernie Ecclestone, we should remember he got us to the point where the sport was more exciting, more wide ranging, more inclusive and made more money for everyone involved.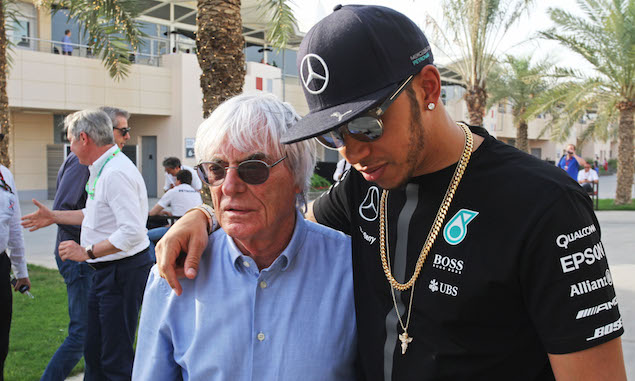 A couple of decades ago, Bernie wouldn't be trying to get cheap alternative engines introduced for 2017, he simply wouldn't have allowed the technical abominations the teams currently have to use as chassis-gearbox spacers to be introduced in the first place. But these days, he's just the rent collector for CVC, when he's not out and about persuading delusional dictators that staging a Formula 1 race for billions of dollars will make them seem warm and cuddly. However, instead of doing a straight deal with TV companies and teams, the old thrill of taking people for a ride and implementing the divide and rule maxim means we now have a money mess of such labyrinthine proportions that it's impossible to unravel. It's all based on the "sign up with me now and you'll get a better deal," much like banks offering preferential interest rates to attract new customers, thus pissing off their existing ones.
In 2015, thanks to a combination of these ridiculously expensive power units and the threat of bankruptcy now hovering, not only over the minnows at the back of the grid, but also the midfield teams that regularly score points and have a sensible business plan, F1 was staring into the abyss. The three engine manufacturers are partly to blame because they didn't want to drop the extortionate price of their engines. General Motors spent $5.5billion on advertising in 2013, Fiat Chrysler spent $2.2bn last year and when it comes to R&D, most car companies spend even more than that. So F1 engines and indeed an entire F1 programme is just chump change for these guys. It comes down to that hoary old chestnut, what's the point of being the best, if you're just the best of a bad lot? Cheaper engines and allowing each driver to use many more of them per season, with a much more generous fuel allowance would fix most of the boredom-related issues we have seen this year.
Unfortunately, the sport's governing body mistakenly believes F1 should be some sort of shop window for green technology – it's already got the incredibly tedious Formula E for that – while it's president is more concerned with carving out a reputation as the patron saint of road safety. That's a very noble cause, but I fail to see what it has to do with motor racing. F1 should not be a technical exercise, it should be a scary, noisy sport with cars so powerful they are difficult and dangerous to drive.
But thank god we had this mess to talk about all year, because Formula 1 didn't exactly deliver a thrilling season on track. I know there were plenty of great moments, most of them down to the child Verstappen, but when I say thrilling, I mean in the sense that you could switch on your TV for 90 minutes on a Sunday and be hooked on the race, without needing umpteen analysts to tell you what you were watching.  Once again this year it was all about "lift and coast" and saving tyres.
On top of that there was some shocking behaviour from people who ought to know better. It must be hard not be smug when you win everything, but the smugometer at Mercedes was well off the clock this year and you longed for an entire day to pass without their social media telling you just how marvellous they were. Apart from the leathery lizard skinned legend that is Niki Lauda, whose own achievements naturally give him a better grasp on reality than some of his colleagues. He steadfastly refuses to wear team kit and spends most of his track mornings having breakfast at Red Bull with fellow (slightly less race damaged) Austrian Helmut Marko. Over in the Italian camp, Sergio Marchionne and Maurizio Arrivabene were the two architects of the Prancing Horse renaissance, or at least that's what they liked to tell us, even though they'd only been there two minutes.
As for Dietrich Mateschitz, he pretty much singlehandedly dismantled the Red Bull brand's image as the fun loving, out there, just do it for the hell of it, company, with his ill-judged assault on Renault. Mind you, I'd have to say Ron Dennis took the admirable view of not dissing your engine supplier to a ridiculous extreme, to a point where black was white and white was black. In defence of Ronzo, I personally never understood why anyone with any knowledge of how F1 works could think Honda would even score a point in their first year. As usual and proving they had learned nothing from their last F1 forays, Honda appointed a boss so much out of his depth, he could have drowned in the shallow end of a kiddie's paddling pool. This didn't stop Yasuhisa Arai from making ridiculous claims about what the team might be capable of by the end of the year. It reminded me of Adrian Reynard, when as the brand new boss of the brand new BAR F1 team, he said at the launch of their first car: "We will aim to put the car on pole position and win the first race." We should bear in mind this was in 1999 when I believe narcotics were more widely available than they are now.
On the plus side, it does look as though proposed changes to technical and sporting regulations will see a return to real racing…in 2017. For now, we will just have to make the best of it in 2016, when we do have the real prospect of a more competitive grid, hopefully with Ferrari, Williams and Red Bull (?) pushing Mercedes hard. On top of that there's the arrival of the Ferrari B team, the Prancing Haas, a Manor car with a Mercedes power unit and possibly the most tantalising scenario, a Nico Rosberg keen to carry his Hamilton-beating momentum into 2016.
Don't worry, everything's going to be just fine.
Honda exclusive Q&A: Reflections on 2015
Romain Grosjean exclusive: From Lotus to Haas
Use the red tabs on either side of the screen to scroll through more Formula One news and features
Click here for a gallery of the McLaren MP4-X
Keep up to date with all the F1 news via Facebook and Twitter