Alfa Romeo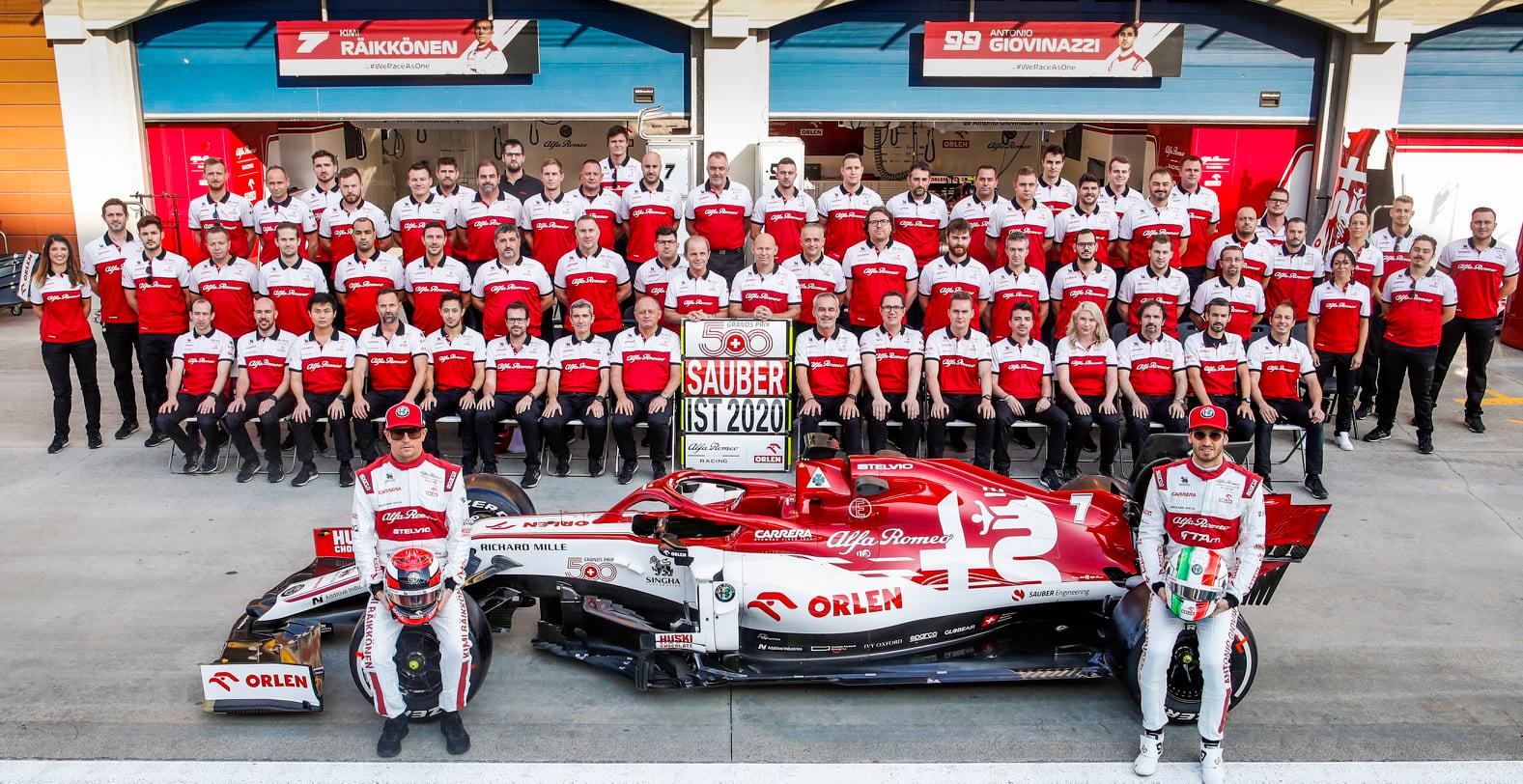 The team picture
Constructors standing: P8, 8 points
When Sauber announced that it was rebranding as Alfa Romeo at the end of 2018 as the result of a new collaboration with Ferrari, it looked like there was a bright future in store for all at Hinwil. Unfortunately that came with a cost, as Charles Leclerc was summoned to Maranello (Alfa got Kimi Raikkonen in return, by no means a bad trade) and ever since they've been rather harshly dismissed as the Ferrari 'junior team'.
Their first season under their new name wasn't too bad - they were eighth in 2019 and picked up 57 points, putting them within touching distance of Racing Point in the final standings - but this year has been a major disappointment by comparison. They've earned just eight points in total in 2020, albeit over the course of a significantly shorter season because of coronavirus. Their best weekend came at Imola where both cars finished in the top ten, which proved crucial to successfully beating Haas in the constructors championship.
A large share of the blame for the team's struggles must go to this year's underwhelming 2020 Ferrari power unit, as evidenced by the number of times that we've seen an Alfa Romeo and a Ferrari running close together on track. The Alfa actually had the upper hand on more that one occasion, despite the condensed season leaving them short of time to bring a programme of upgrades to the car.
The team appears to be at something of a crossroads, with hints that the management is looking closely at whether the partnership with Ferrari will continue beyond next year. Certainly they have to find some way of getting back in the game, because it really is no fun running around at the back fighting over the wooden spoon honours.
The driver line-up
Kimi Raikkonen: P16, 4 points
Antonio Giovinazzi: P17, 4 points
Kimi Raikkonen undoubtedly remains the superstar attraction for the team, with the former world champion often able to wring something extra out of the C39 when given the slightest opportunity in races - such as that phenomenal first lap in Portugal. However there are other moments in practice and qualifying when he doesn't really look all that interested, and for a time it seemed like he might finally be ready to quit the sport at the end of 2020 to go and do something else. The fact that he's staying put next season shows that he's still finding F1 rewarding and enjoyable, even though he's only managed two top ten finishes this season in Tuscany and Imola.
While Antonio Giovinazzi is very much the junior partner in the line-up, he's actually more or less matched Raikkonen in his second full season in F1. The two have almost identical average grid positions (16.35 to Raikkonen, 16.76 for Giovinazzi) and finishes (13.00 to 13.86 respectively) and end the campaign on the same number of championship points. Giovinazzi started the year well with ninth place in the chaotic season opener in Austria but after that there were nine pointless outings before he returned to the top ten at the Nurburgring, and then again at Imola three weeks later. The fact that neither old hand nor young gun were able to achieve more in 2020 confirms that the problem is not with the driver but with the car - and the engine.
Somewhat to everyone's surprise it turns out that Raikkonen and Giovinazzi will be together again in an unchanged driver line-up for 2021. Is this an indication of the team being in a holding pattern while team principal Frédéric Vasseur decides on the future direction of the squad?
Gallery: The beautiful wives and girlfriends of F1 drivers
Keep up to date with all the F1 news via Facebook and Twitter