Alfa Romeo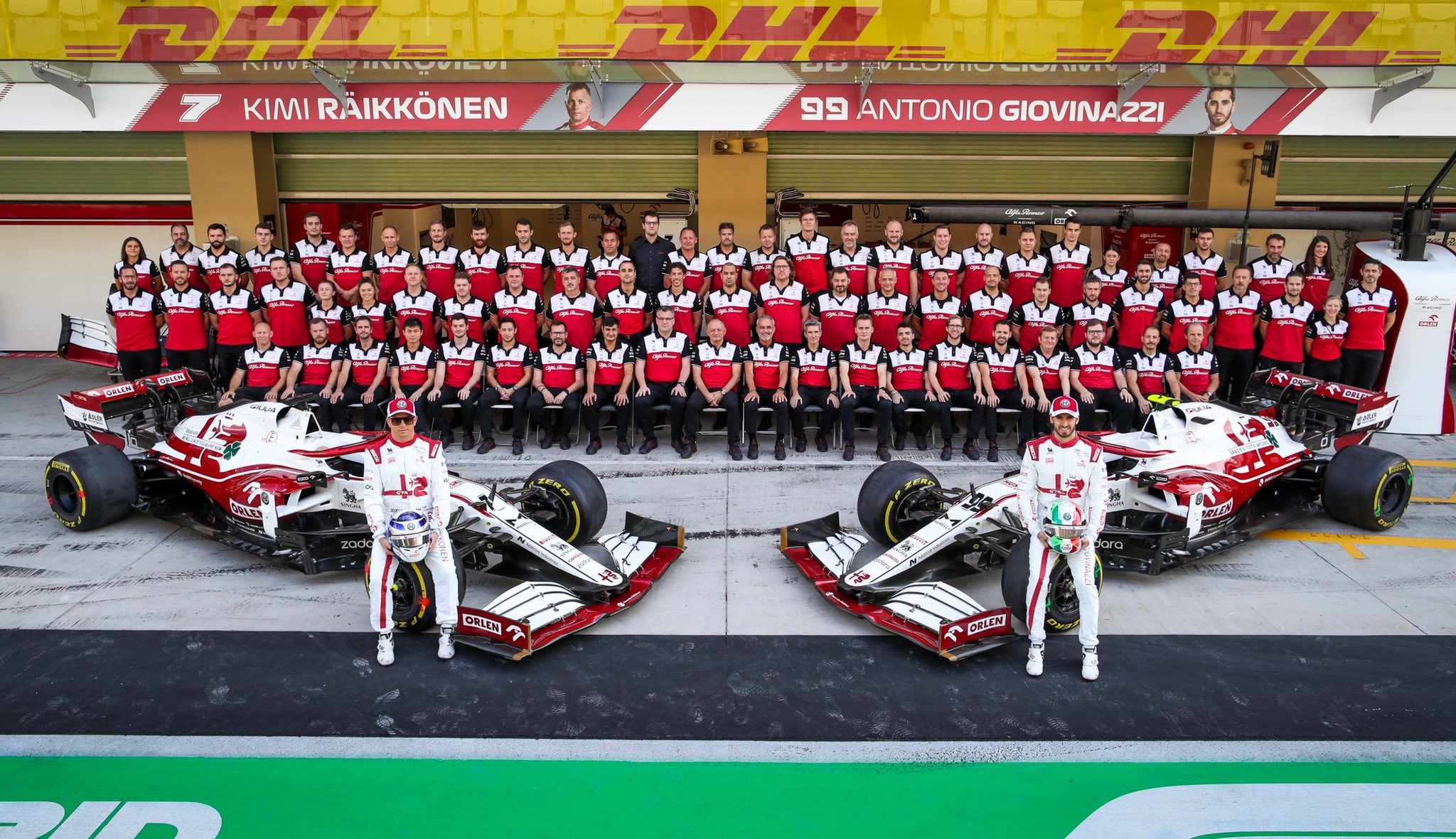 The team picture
Constructors standing: P9, 13 points
Coming into this season, all the teams were caught on the horns of a dilemma when it came to deciding how much time and resources to spend on this isolated campaign, when the major consideration for everyone had to be the imminent introduction of new technical rules and regulations for 2022 and the tantalising opportunity this represents to make a quantum leap forward. For Alfa Romeo the choice was perhaps slightly more straightforward due to their poor performance last year, which saw them finish in eighth place on the constructors championship and a total of just eight points leaving them little to lose.
As a result you'd be forgiven for thinking that Alfa Romeo effectively decided to go into hibernation. Even the less than thrilling decision to retain its pre-existing driver line-up of Kimi Raikkonen and Antonio Giovinazzi suggested they were treading water and just looking to get through another year before it could start up again properly in 2022. Accordingly, Alfa made little or no impact at any level all season and didn't even succeed in getting either car into the points until Giovinazzi took tenth in Monaco (with Raikkonen one place behind.)
Two thirds of the way into the season, Alfa had a total of just three points. But then Raikkonen picked up two eighth places in Russia and Mexico, and Giovinazzi was ninth in Saudi Arabia despite having just been told he was being let go by the team at the end of the season as team boss Frédéric Vasseur began the process of defrosting the set-up in preparation for the forthcoming all-important year of change ahead. It's just as well, because it's been uncomfortable seeing a team with this sort of pedigree in the sport simply making up the numbers on the grid with so little ambition.
The driver line-up
Kimi Raikkonen: P16, 10 points
Antonio Giovinazzi: P18, 3 points
Robert Kubica: P20, 0 points
Having made 349 race starts since his Formula 1 debut with Sauber in the 2001 Australian Grand Prix, 42-year-old Kimi Raikkonen departs as the most experienced driver in the history of the sport. That's quite an achievement, but we suspect he won't look back at the last three years of his tenure in the sport with much affection or any great sense of accomplishment. At times this season he's looked like a blue collar worker showing up, putting in the hours, tucking into his packed lunch and then going home, but not getting a great deal of enjoyment from any of it anymore.
Despite being a former world champion and by far the most experienced driver in the line-up, he was distinctly second-best to Giovinazzi in all but six of the 19 qualifying sessions that they both took part in. His strength as a driver has always been the way he was able to apply that expertise in the race on Sunday, and sure enough he finished ahead ten times to Giovinazzi's eight meaning that he succeeded in claiming the lion's share of Alfa's points (ten points to the Italian's three).
Raikkonen missed two races during the year when he tested positive for COVID and before the Netherlands event and had to sit out the Italian GP the following week. The team's reserve driver Robert Kubica sat in for him but was no match for Giovinazzi, although he was only short by one position on each occasion. Failing to grasp the opportunity to shine in Kimi's absence was probably the end of the road for Giovinazzi, who will move on to Formula E next year having been let go by the team. Although he complained about it being a case of 'money talks' after his seat went to Chinese driver Guanyu Zhou, the brutal truth is that his performance didn't come nearly close enough to presenting a counter-argument in favour of his retention.
How 2022 is looking for Alfa Romeo
With its close technical partnership with Ferrari, who are clearly back in the game after a truly dreadful 2020, you'd expect Alfa Romeo to be able to take advantage of the forthcoming rules overhaul. The team have good financial backing with their Alfa branding tie-up and are underpinned by the solid talents of the Sauber organisation that operates the squad under the iconic Alfa marque and the management of the skilled and talented Vasseur. Even the clean slate on the driver front offers hope of a revival in 2022, with the team scoring quite a coup by signing Mercedes driver Valtteri Bottas to lead the way.
And yet for all that it's hard to see the team making any great headway in the next 12 months. It's been too moribund for too long. Alfa Romeo - under any of its identities - hasn't been out of the bottom three in the constructors standings since 2013, and it seems a lifetime since its BMW-branded operation secured a dizzying third place in 2008 thanks to the efforts of Nick Heidfeld and Robert Kubica.
We'd love to be wrong and to see a Swiss renaissance next season, and maybe they have some super-secret technical breakthrough waiting in the wings with which to dazzle us. But if that's the case then they're doing a terrific job hiding it.
Keep up to date with all the F1 news via Facebook and Twitter