"In F1 every year for every driver is the most important year of your life" - Carlos Sainz talks to Chris Medland about his second season at Toro Rosso
A driver's rookie season in F1 can be a daunting prospect, with new circuits to learn, new pressures and increased focus on your performances having earned one of the most coveted seats in motorsport.
So imagine the prospect faced by Carlos Sainz last year when the Spaniard not only had to prove himself worthy of an F1 seat - and hopefully future consideration from Red Bull - but he had to do so alongside a team-mate receiving plaudits left, right and centre.
Sainz's first season was an impressive one overall, with the biggest negative being a lack of points  compared to Max Verstappen, which was largely caused by unreliability. With Verstappen ending the year being compared to Ayrton Senna, Sainz was left thinking what might have been, while looking to 2016 as his chance to deliver the results a number of his performances deserved.
"For me there is the same pressure every year," Sainz told F1i. "Since I was in the Red Bull Junior Team it has been exactly like that. I was in the Red Bull Junior Team at 15 years old and every year since then has been the most important year of my life because if you don't do a good year that year you're either out or in a difficult situation. So this is just another year more.
"I know it's a very important year for me but it has been for the last six so nothing really changes. I think in F1 every year for every driver is the most important year of your life because you live on a very thin line where you always have to perform. It doesn't matter the position you're in so that's it for all of us I think."
While Sainz attempts to play down any pressure, the reality is Toro Rosso is a team in which drivers are perhaps subjected to the most scrutiny as Red Bull runs the rule over its junior drivers. Having enjoyed a largely positive relationship with Verstappen in 2015, Sainz is confident the pair can keep the peace despite fighting to be next in line for a chance at the four-time constructors' champions.
"The relationship both Max and myself have you will see good fights on track, good fights in qualifying and things like that but the respect should stay the same. The relationship should remain the same. We are both mature enough, obviously with our age it shouldn't be like that but I think we are both mature enough to handle the situation and hopefully we can keep it as clean and as nice as last year."
Sainz suffered a run of four consecutive retirements due to reliability issues during the middle of 2015, just as his team-mate scored an eye-catching fourth place in Hungary. Even though it was a frustrating time, the 21-year-old still takes positives out of the difficult situation he faced throughout his debut season.
"I think it was a challenging year and it was a year where I needed to prove I was comfortable despite what happened to me, that I had the maturity and I was ready to overcome difficult things in F1. With so many things that happened I think I managed to remain calm and remain positive and still managed to end the season on a high with a good Abu Dhabi Grand Prix. So I was pretty happy with that.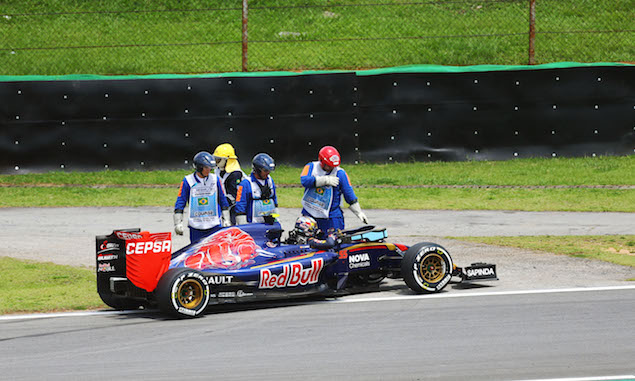 "You look back at the year and you see where you need to improve and what you are good at to keep it or improve it. Obviously in a rookie year even if you are good at something you are not even close to perfection so you need to look for those small details and keep working on them. It will help you to be a bit more consistent, a bit more mature, a bit more of a complete driver.
"I need to take the positives because last year there were many positives. Much more than maybe the first impression might look like if somebody looks at my year. I think there's many more positive and to build the confidence I need to look at them and say: 'Wow, in this race I would have finished here, in that race I was doing everything perfectly'. Then I can build up on that and say I am ready for a tough and fun 2016 and I'm ready to put the good things much more together."
In a year's time the line-up at Toro Rosso could look very different, but Sainz is careful not to think too far ahead regarding what he needs to prove in 2016.
"It's a bit far away yet! It's a bit far away but I would like to see a Carlos Sainz that has done a complete, consistent season and that has caught the eye of some top teams out there. Especially of course Red Bull!"
So if he impresses the bosses at Red Bull Racing, would Sainz ideally move up next season?
"I don't mind because it still depends on many things. It also depends on the guys up there [at Red Bull]. So it doesn't matter if you do a brilliant year, if they also do it then they will keep both drivers. It's a bit of a wait and see situation, I first need to focus on myself and make sure I'm in that position before seeing myself already there because there are 21 races still to do."
Verstappen seems confident of a career plan within Red Bull, while Daniel Ricciardo is a proven winner and Daniil Kvyat impressed in the second half of 2015. Sainz knows his own performances may never be enough to secure him a promotion if a seat does not become available, but he says he will stay loyal to Red Bull rather than immediately look to jump ship.
"It's very hard, especially because Red Bull has been supporting my whole career for the last six years. They are the ones that trusted you and put you in a Formula 1 car. It was not Mercedes, not Ferrari, not Williams, not Renault, it was Red Bull who invested in you and put you in a Formula 1 car and said 'Go for it, you have all my confidence'.
"So 100%, no doubt, if you asked me who do you want to be world champion with I'd say Red Bull. No question, this is my target and where I want to be in the near future. What happens after I have no idea."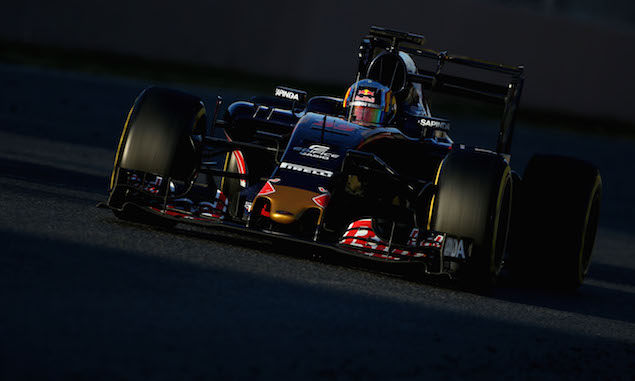 Exclusive Q&A with Honda's Yusuke Hasegawa
INTERVIEW: Max Verstappen: The man in demand
Keep up to date with all the F1 news via Facebook and Twitter