We've consigned Eric Silbermann's Grumpy Previews to the dustbin of time and asked him to cast his jaundiced eye over actual goings-on in the actual paddock, in the actual present day. He's only gone back to the year 2000, so not too bad by his standards.
When Jaguar Racing first entered Formula 1 in 2000, it could really talk the talk but failed miserably to walk the walk. A sad state of affairs for any race fans who remembered or had read about Jaguar's glory days on the track, primarily at Le Mans. On their maiden race here in Oz, the marketing people shelled out a small fortune to rebrand several of the city's famous trams in the race team's colours. Trams and Jaguar F1 cars – one an antiquated form of travel that rattled along making a lot of noise while the modern traffic whizzed past it and the other, the much loved Melbourne tram.
I was on one of these very trams only the other day and was surprised that Daniel Ricciardo was also on board. After all, it's not exactly a glamorous form of transport for a sporting god and a national hero. In fact it turned out to be young Daniel's recorded voice, encouraging fans to come to Albert Park for the Grand Prix by tram. I can't say anyone took any notice.
I normally travel in and out of the track by bicycle, but this morning I took the aforementioned tram and walked the final bit, because of the torrential rain. Arriving on foot, you are subjected to a bag search, which is peremptory but fair enough, we live in a world full of bad and crazy people. However, the security forces in Melbourne clearly believe that terrorists are too poor to travel by car, because while we pedestrians are searched, those arriving by car are, for the most part, given a regal wave through, although cars are sometimes checked on their way out of the track to ensure the occupants haven't stolen anything!
It used to be that if you wanted to express the idea of a large gathering of people in Formula 1, you'd say there were more people than Mercedes F1 has technical directors, but now we have a new standard of measurement to indicate a large crowd: you'd say there are more people here than Channel 4 has F1 presenters. The new free-to-view British TV broadcaster has apparently employed anyone not already working for Sky, or currently awaiting sentencing for murder in the High Court. Channel 4's team photo looked like one of those collages of famous people we used to do at school after the Beatles brought out the Sgt Pepper album. Some of them are well proven much loved talents that we've seen before on the Beeb, but frankly some of the appointments have a whiff of the producers being charitable towards the unemployed, but let's admit it, we're all very relieved that Susie Wolff has found a new job, because we were seriously worried about how she and Mercedes supremo Toto were going to make ends meet.
With so many TV crews cruising the paddock, you learn to keep an eye on your appearance before heading out of the media centre, but here in Melbourne, there's really no escaping the lens, as they've rigged up one of those Cat-Cams we've grown used to seeing whizzing up and down pit lane in the actual paddock, so checking your flies are done up, or to be gender-inclusive, ensuring you haven't tucked your skirt in your knickers, will now be an essential item on the check list.
Last night I trammed it into Melbourne's trendy Docklands for a top secret press event. I say top secret, because the invite made no mention of who were the hosts or what to expect. However, long before we went, the story had been leaked that Aston Martin had joined forces with Red Bull Racing, in as much as Adrian Newey is achieving a lifetime's ambition of designing a road-going supercar for the famous English marque, while Aston get to put a sticker somewhere on the race cars and give the team a shed load of Astons as company cars. Who says you can't fool all the people all the time. The event was held at a place called Aerial, so I knew the reception would be fantastic (This joke can be found in the British museum in the Antiquities section, Ed.)
Who knew, Adrian Newey has been away from F1 practicing his Stand Up routine, right down to how to deal with hecklers. The sassy woman MC said that for her, where to put her coffee could be a deal-breaker on a car, so she wanted to know what Adrian had planned for the new Aston supercar vis-à-vis cup holders. "Send me your cup size and I'll see what I can do," quipped Adrian, sharp as you like.
Christian Horner was clearly delighted at getting his hands on an Aston Martin for personal transport: "We've had worse company cars," admitted the team boss vaguely, careful not to spark yet another war of words with Renault.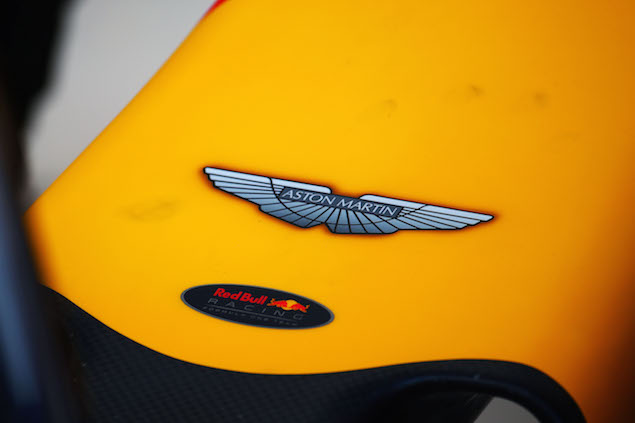 Next, it was the drivers' turn to crank up the laughs, to the point that this was turning into a night at the Comedy Store, with Daniel saying that, with a car like this, "it's going to be tempting to outdo Lewis" in a reference to the time a few years back when the Englishman was pulled up by Melbourne cops for the crime of spinning his wheels as he left the paddock one night.
Wait, there's more from Russia's Joke Czar, Daniil Kvyat: "Where I live, the supermarket is just a hundred metres from my flat, but I think I'll be taking the car from now on," while Ricciardo brought the house down with, "Dani's been having a bit of a problem with the ladies, but I think this car will change all that."
While we have come to expect some laughs from Red Bull Racing – I mean intentional ones – it's not often that Formula One Management go for a spot of humour. But they did when it came to one of the driver trainers' passes. Carlos Sainz's new physio is Rupert Mainwaring and if that name seems familiar, it should do because his father goes by the same moniker and used to be Team Manager at Team Lotus and then Tyrrell. So which Mainwaring's photo do you think the FOM funsters put on the trainer's pass?
Anyway, must dash; just been handed a 2 page FIA bulletin with the full explanation of the restrictions on team-to-driver communications. Why couldn't the governing body have put this out two days ago when I had real trouble sleeping because of the jet lag.