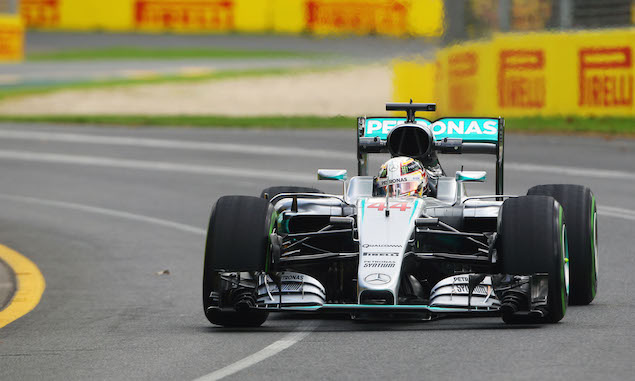 Lewis Hamilton was again fastest in another practice session disrupted by rain as team-mate Nico Rosberg crashed during FP2 in Melbourne.
It was Hamilton who set the pace in FP1 and he again sat top of the timing screens at the end of the second session with a best time of 1:38.841. Nico Hulkenberg was second on this occasion, with the Force India driver 0.467s slower than Hamilton's benchmark.
Unlike the first session, there was no opportunity for dry tyre running, with al of the times registered set on Pirelli's green-marked intermediate tyre.
It was a very wet start to the session which led to little running early on. Once drivers started to head out after around half an hour, Rosberg was caught out by the conditions and aquaplaned exiting Turn 6, hitting the wall with the nose of the Mercedes, breaking the front wing.
While Rosberg attempted to limp slowly back to the pits with the front wing scraping along the track ahead of the front wheels, the German was told to stop by his team as a result of the debris he was depositing. Rosberg parked his Mercedes in the final sector which ended his running after four laps.
The stoppage will not prove too costly for Rosberg as only seven drivers reached double figures in terms of laps in the damp weather. The track conditions remained largely stable and allowed the top five - with Kimi Raikkonen, Daniel Ricciardo and Carlos Sainz behind Hamilton and Hulkenberg - to set times within a second of each other.
Sergio Perez was set to go comfortably fastest in the final 20 minutes having set the fastest first two sectors but ran slightly wide at Turn 12 and backed off despite catching the rear of his car. Heavier rain then fell to prevent further improvements.
Manor was by far the busiest team throughout the session, with Pascal Wehrlein completing 25 laps and team-mate Rio Haryanto adding a further 22 to its tally.
Despite his crash, Rosberg was still 15th quickest overall as a number of drivers failed to set a time. Both Sauber drivers and Max Verstappen even failed to head out on track at all in FP2.
Follow the opening day of the 2016 F1 season LIVE
F1i's Australian Grand Prix preview
2016 F1 season: Team-by-team preview
| Pos | Driver | Team | Time | Laps |
| --- | --- | --- | --- | --- |
| 01 | Lewis Hamilton | Mercedes | 1:38.841 | 6 |
| 02 | Nico Hulkenberg | Force India | 1:39.308 | 8 |
| 03 | Kimi Raikkonen | Ferrari | 1:39.486 | 7 |
| 04 | Daniel Ricciardo | Red Bull | 1:39.535 | 9 |
| 05 | Carlos Sainz | Toro Rosso | 1:39.786 | 16 |
| 06 | Fernando Alonso | McLaren | 1:39.895 | 16 |
| 07 | Jenson Button | McLaren | 1:40.008 | 13 |
| 08 | Sebastian Vettel | Ferrari | 1:40.761 | 7 |
| 09 | Sergio Perez | Force India | 1:41.256 | 8 |
| 10 | Daniil Kvyat | Red Bull | 1:42.411 | 10 |
| 11 | Esteban Gutierrez | Haas | 1:42.891 | 10 |
| 12 | Pascal Wehrlein | Manor | 1:43.401 | 24 |
| 13 | Romain Grosjean | Haas | 1:43.731 | 8 |
| 14 | Rio Haryanto | Manor | 1:44.304 | 22 |
| 15 | Nico Rosberg | Mercedes | 1:47.356 | 4 |
| 16 | Kevin Magnussen | Renault | | 2 |
| 17 | Jolyon Palmer | Renault | | 5 |
| 18 | Felipe Massa | Williams | | 2 |
| 19 | Valtteri Bottas | Williams | | 2 |
| 20 | Marcus Ericsson | Sauber | | 0 |
| 21 | Felipe Nasr | Sauber | | 0 |
| 22 | Max Verstappen | Toro Rosso | | 0 |