On the day of the Heineken announcement, what makes us think that Eric Silbermann is more of a gin and tonic sort of bloke?
Another race weekend, another city with boats. However, while Monaco two weeks ago was all about ultra modern, ultra vulgar water playthings belonging to the ultra rich and vulgar, here they tend to be rusting hulks of container ships and fishing trawlers used for work rather than pleasure. It's a contrast that extends to almost everything about Montreal and Monaco, two cities we love to come to although so different in character, the Canadian one a real and vibrant city, whereas the Principality feels more like an expensive show home in a signature real estate development.
A colleague reminded me last night that, when we first started coming here on a regular basis, it seemed that just about every restaurant in the city would have some sort of reasonably priced lobster dish on offer. The waitress would crocodile-clip a giant bib – linen in the posh joints, paper in the more bistro type establishments – around your neck and you'd tuck in using those special tools usually only on display in the best gynaecology clinics. Boiled, baked or grilled it didn't matter, you just had to have lobster.
And talking of grilling, Daniel Ricciardo got one in the FIA Media conference yesterday about how he had gone into hiding after the Monaco debacle. Had this destroyed his relationship with the team, how did the rapprochement take place? All questions asked as if this was all part of some logical process of reconciliation. As a lad from a real family, the Aussie naturally looked confused because family arguments don't work like that: you just calm down and eventually get round to sorting it out. It's Formula 1, an emotional business, a sport where feelings run high with a lot at stake.
Again in this instance, the culture of blame warps people's perception of how to handle a cock-up, because really, that's all it was; a cock-up as made by every top team in every top level sport, since one of Ben Hur's rivals in the World Chariot Racing Championship pulled into the pits unannounced and told his engineer "hoc currus est fututam" (this chariot is f****d.) I've lost count of how many people apparently told Ricciardo that his day would come, as though this was some sort of emollient to pour on troubled waters, but they clearly don't understand the mind of a sportsman, who if looking likely to win the last two races on the trot is quite rightly entitled to believe that this is his time right bloody now. If you take that blame culture to its logical conclusion you could say that the ten teams that are not Mercedes should all be accused of getting it wrong, making one season-long mistake, on the basis that they are not winning.
I was wondering what other topics to discuss here and, like manna from heaven, the Heineken announcement, with a prequel from Bernie Ecclestone effectively stating that he wouldn't retire until his body reached the crematorium, landed in my lap. Held in a hospitality unit open to the elements, it was even colder than in the media centre on a day when everyone had to wear every item of clothing they'd brought to Canada. The result of this unexpected cold snap was that for the first time in the history of any form of media, journalists were seen to turn down the offer of a free beer. To plagiarise the strap line of another famous beer, "if Heineken made hot tomato soup…"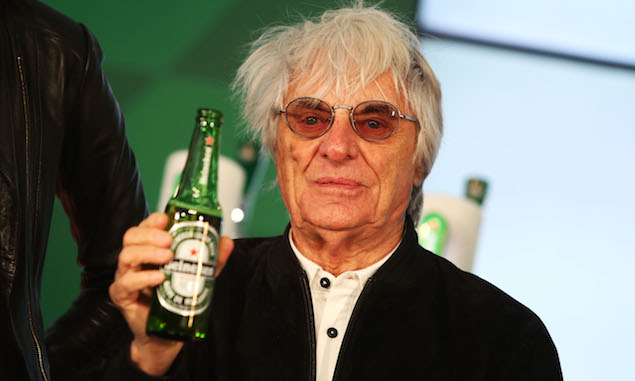 As we left the event announcing the far from secret Heineken-F1 tie-up,a proud Glaswegian TV producer reminded me of an old Scottish saying, "Every pound a prisoner." How relieved are we to discover that, pride of Scotland, Sir Jackie Stewart and David Coulthard can look forward to a comfortable old age, thanks to their new roles with Heineken? DC is now an ambassador for so many brands that his home in Monaco will shortly be reclassified as an Embassy. As for JYS, he won't even have to change clothes to take in Rolex and Heineken events on the same day thanks to the handy sharing of company colours green and white. The two Scots were joined on stage by other ambassadors, a Spanish footballer, a Welsh rugby player, who was very funny but completely unintelligible to the audience, so strong was his accent and a "Bond Girl." "Huh," snorted an F1 photographer clearly unimpressed. "She's hardly famous, she's only in the first 10 minutes of "Spectre" and she didn't even go to bed with Bond." Clever girl, I thought given the actress is 20 years younger than Daniel Craig.
DC did a great job of sounding interested in what this motley crew had to say and then it was time for the wise words of Sir Jackie. For the record, let me state that I am a great admirer of the triple world champ. He did the bravest thing in brushing off being branded a coward for demanding improved safety for drivers and all the other campaigners who came after him can thank him for that.  However, his comedy clothes and name-dropping are a different matter. Yesterday, I reckon he beat all records when it came to how quickly he crowbarred in a mention of Grace Kelly and her Monegasque-ruling husband. According to my stopwatch, if we remove the last-minute adlib about how cold it was, Ms Kelly's name tripped from his lips in under 5 seconds.
It wasn't just we humble hacks who were Heinekened yesterday, as team personnel and other grandees of the sport were invited. The FIA was noticeable by its absence. Last year, the sport's governing body came in for some stick from the European Alcohol Policy Alliance over F1 promoting alcohol, while running it's Action For Road Safety campaigns. More political correctness gone mad if you ask me, as it's not as though drinking alcohol is usually carried out in the fast lane of a motorway. You've got to feel sympathy for the FIA – a first time for everything – because criticising the body that has no say over how the sport is paid for is a bit like admonishing TV chefs for using knives, because knives are used to stab people, or more dangerously, prising the flesh out of lobster claws.
Romain Grosjean column: Racing on two wheels
Chris Medland's 2016 Canadian Grand Prix preview
FEATURE: Six races in - 2015 v 2016 comparisons
Keep up to date with all the F1 news via Facebook and Twitter