The best quotes from the Austrian Grand Prix weekend include a bored Fernando Alonso and cross-dressing Jenson Button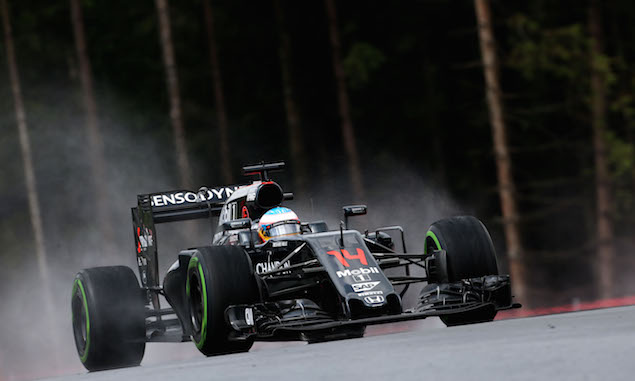 "I've not been learning anything for the last half hour."
Fernando Alonso being told over team radio he can pit in FP2 if he's not learning anything in the half-dry half-damp conditions.
---
"Can you imagine the excitement when Germany scores, the only one who is celebrating is me"
Prophetic words from Ferrari's Sebastian Vettel on Friday afternoon before the Germany-Italy Euro football game.
---
"The rain was so local and came in really hard at Turn 8 and 9 so that part of the track was especially tricky. If in the race you get that part of the track first before the others then you could be quite unlucky
Daniel Ricciardo really would be unlucky as it would mean he'd somehow missed turns 1 to 7.
---
"Paying salaries definitely helps for the atmosphere in the team!...There was always light at the end of the tunnel – but as you know, Switzerland has just opened the longest railway tunnel in the world – the light was always there, the tunnel was just massively long. The tunnel is getting shorter now."
Team manager Beat Zehnder on the upturn in Sauber's fortunes.
---
"I can give you some guidelines on working with customs papers if you are not belonging to the EU!"
Beat Zehnder again, this time offering to help the English teams in the post-Brexit age.
---
"I would go through 2 hours of makeup so I could actually relax. It's the same with Goodwood, you'd love to walk around, put make up on…no not like that, so that you look different, still look like a man but just different. Dress up."
Jenson Button gets his words crossed in a cross-dressing sort of way, when explaining that, once he hangs up his helmet, he'd love to attend the British GP and Goodwood Festival of Speed, like a true fan without being recognised.
---
"It's easy from here, I've seen it on TV. When they're at the front they just disappear so that's what's going to happen."
Button again, this time explaining how he hadn't forgotten what it takes from the business end of the grid.
---
"We have some noise around right now. Do you know why it is?"
Whoever chose a non-English speaking Spanish TV presenter to do the podium interviews at a race in Austria needs their head examined. And this question about the crowd booing Lewis Hamilton was not exactly an inspired move.
---
"The five second penalty was fair enough as I did move more than once and you're not allowed to do that."
Unbelievably, an F1 driver (Kevin Magnussen) agrees with a penalty handed out by the stewards in Spielberg.
---
"…then you have so many buttons and engine modes to put in, then I needed to find reverse gear. I was like a DJ on my steering wheel."
Pascal Wehrlein cleary fancies a career as F1's David Guetta, as he explained the tricky task of moving back off Felipe Massa's grid slot and into his own. In hindsight, it appears his DJing saved him from a penalty by around half a second.
Austrian Grand Prix - F1i Driver ratings
REPORT: Hamilton snatches dramatic victory on final lap from Rosberg
Breakfast with ... Alexander Rossi
F1i Classic: Penske's emotional Austrian GP win
Keep up to date with all the F1 news via Facebook and Twitter