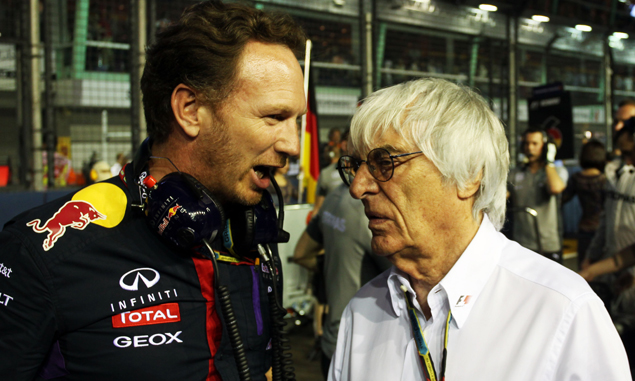 Former McLaren team principal Martin Whitmarsh used to say Formula One seems to work best in a crisis, but I'd argue the sport is always in a self-proclaimed state of crisis.
While the latest calls have been for the FIA to rein in Mercedes as it extends its level of dominance even further this season, the more worrying developments were occurring away from the circuit in Melbourne last weekend. F1 should avoid knee-jerk reactions in response to the result of the first race of a 19-round season, but needs to look at taking action regarding off-track matters.
2014 ended with a number of teams standing united against the current revenue distribution in F1, with Sauber, Lotus and Force India all calling for immediate change as they felt the pinch - or more the iron grip - of the new regulations which had led to hugely increased power unit costs. Those new regulations, of course, had been influenced by the teams themselves.
Just because the season ended didn't mean that problem went away, it just dropped out of the spotlight for a few months and was replaced by focus on the start of a new season.
Force India was the first team to show signs of strain as it delayed the launch of its new car until midway through the final test due to issues with suppliers and cashflow. Lotus, too, was late with its new car, albeit only by one day.
Then came the Sauber courtroom drama as Giedo van der Garde tried to wrest back his race seat with the team, ultimately settling for significant compensation. The main thing to come out of that story was the dire straits Sauber found itself in at the end of 2014, needing to take the money available from Marcus Ericsson and Felipe Nasr immediately in order to help the team stay alive. The consequences were then dealt with at the Supreme Court of Victoria.
While eyes were on the court in Melbourne, the paddock was also the scene of a telling situation. Lotus went in to race week without a valid contract with Pirelli for their supply of tyres. Marussia - in Melbourne as the Manor team - also still had to resolve issues from last year having gone in to administration. The problem dragged on, with the final deal only being agreed at around 13:00 on Thursday afternoon and tyres released soon after.
The crux of the issue was regarding the outstanding payment for 2014's tyres, and almost reached a tipping point in Melbourne despite an advance of $10million from Bernie Ecclestone to the teams.
While good of Ecclestone to relieve cashflow issues by advancing the payment, it's not a bonus; the teams will see less money from each subsequent payment from the Commercial Rights Holder as a result. It's a very short-term fix.
Standing united is something the teams don't often do very well, and it's extremely rare for them all to agree on one topic. Self-interest will always rule, and the teams can't be blamed for that as they look to please bosses at one end of the spectrum, or safeguard jobs at the other.
However, if the teams relinquished power in terms of regulation making (or blocking), real change could be made. Ecclestone said last year he would rip up the agreements he has in place with the teams and start again if he could, while the FIA should be able to impose any regulations it deems fit as the governing body of the sport, without unanimous agreement being required.
We need to have a fundamental review of Formula One
As competitive beasts, the teams are their own worst enemy. By having a say in too many aspects of Formula One itself, impartial, sensible decisions cannot be made, which deepens any problems further. In turn, those deeper problems lead to a greater need for change in a sport unable to agree on and implement such action, and the downward spiral continues.
The difficulties faced by smaller teams has become so great that Manor team principal John Booth was asked on numerous occasions over the Australian Grand Prix weekend - including by myself - the question: "Why would you come back?"
The smaller outfits are hugely up against it. Force India deputy team principal Bob Fernley says his team remains tightly united with Sauber and Lotus in the pursuit of an overhaul of revenue distribution, but is also seeking a wider analysis of the way F1 is structured.
"I don't think anything's changed [since last season], I still think we need to have a fundamental review of Formula One," Fernley told F1i.
"We're having discussions and hopefully that will continue and some sort of solution will come through that gets more sustainability.
"Yes, the talks have been productive. Bernie's been helpful, he's provided support when we've needed some support, so I think we've just got to build on those discussions."
As it stands, those discussions happen individually. To move forward, there should be a blanket commercial agreement between the teams (as one entity) and the Commercial Rights Holder which is transparent and open. They're all competing on the same sections of tarmac, so they should all be signed up to the same conditions.
Unfortunately, to reach the point where significant change can be implemented that isn't driven by self-interest you need the agreement of all the teams. And back to square one we go.