In his final column of 2016, Romain Grosjean reflects on his debut season with Haas F1 Team and is excited by the potential for the future
How would I sum up my first season with the Haas F1 Team? Haasome!
It's been surprising for a lot of people and for ourselves as well. There have been ups and downs, but when we look at the season as a while, scoring 29 points and finishing ahead of a lot of teams with a lot of experience and being able to keep the level through the year has been really encouraging.
It is the end of what we hope will be the first of many successful seasons in F1 for the team, and as a result we are not getting carried away by anything or too downbeat by anything either. When I joined I thought we could score a few points here and there, just occasionally.
We started the year very, very well - almost too well - and people forgot that we were new. Then we realised that we have got a lot to learn and even in Abu Dhabi we realised we've still got a lot to learn. Our race pace was maybe better than the McLarens, when we got the tyres to work we were flying but we struggled in qualifying because we couldn't get the tyres to work.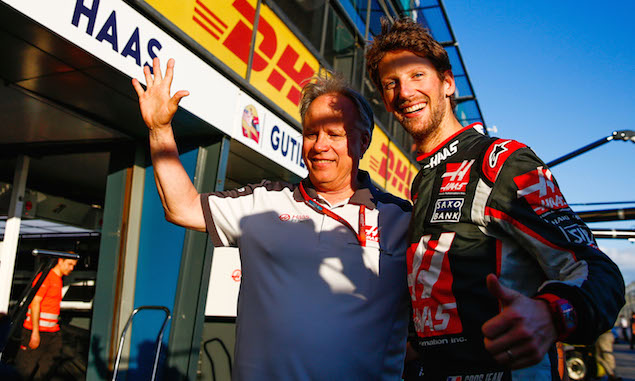 Ending the season in eighth place and scoring 29 points is generally very positive, even if there were other races where we could have scored more. That is bound to happen in a debut season and it's exciting to know we have a lot to improve on having been so competitive this year.
The biggest surprise has been the general way we worked and the way the car behaved. To be able to keep our level throughout the season and reach Q3 in Japan - which was the 17th race of the season - and in Brazil - which was the 20th - is a big achievement. Those results were on raw pace, too.
On a personal level it has been a great year. I came here and everybody really wanted my feedback and really wanted me in the team. Of course there are ups and downs as well as frustrations because you are a competitor and you want to push everyone harder. Sometimes you want to dance faster than the music, but that's what you've got to try to do; sometimes you'll succeed and sometimes you'll fail.
People were critical of my move from Renault at the time, but I made the right call and I've made the right decisions. Some people still look for negatives, but I was always going to stay here next year. I also sometimes get stick for complaining on the radio so often, but it is part of the job. If you are not a perfectionist and you do not want to go to the next step, what is the point in coming?
I'm very happy to be here, there's nothing I regret. I think it was the best choice for my career. It shows I am capable in a different team to develop the car and guide the team, which carries a lot of weight on my shoulders - and sometimes I took it too hard - but is a role I relish. Haas put its faith in me and I put my faith in the team this year. Together we have delivered and I'm so proud of everybody.
The improvement margin for us during the off-season is huge. Whereas other people are already at a high level, we've got so many areas we can improve, so many things we can do better. The way we model, we get the tyres to work, we come to the race track ready to run, we know where the car set-up should be, the way we react to problems and so on. It's quite big, so if we get that sorted we will make clear progress.
I've been overweight in our car all year. I was eight kilograms heavier than Esteban, in qualifying that's 0.35s. So over the race in Abu Dhabi, I was 10kg over, which is 22 seconds. If you take my result minus 22 seconds it's eighth place. So a lot of things like that we can improve, and if we can do so then things are going to be better. I'm not losing any more weight, though, I'm already light! I'm 1m80cm and 68kg! By regulation the car is going to be heavier. I know we can do a better job to get the car down on weight so I'm not going to lose any more.
Over the winter I will do a lot of training because next year is going to be tough. That includes a 68km cross-country race! I will also do some ice racing again as I return to the Andros Trophy, and plan on spending time with my family. 21 races for the family is hard, and I'm looking forward to seeing them before we focus on an exciting future for Haas.
Thank you all for following the story of my first season with Haas here on F1i, I wish you all a very Merry Christmas and here's to a great 2017.
TECHNICAL: Under the skin of the Williams FW38
Silbermann says... Let's go racing in December!
Jorge Lorenzo: When a two-wheel champion tests a Mercedes
INTERVIEW: Stoffel Vandoorne: The long wait is over
Keep up to date with all the F1 news via Facebook and Twitter