Mercedes, 1954 French Grand Prix – Reims
Alongside Germany's Auto Union, Mercedes-Benz dominated the grand prix scene in the 1930s with drivers like Rudolf Caracciola and Manfred von Brauchitsch at the wheel. In order to comply with maximum weight regulations enforced at that time, the team removed the white paint from its cars, which earned them the name Silberpfeil (Silver Arrows in German) as a result.
In 1954, Mercedes-Benz finally entered F1 with Alfred Neubauer at the helm. Prior to joining the fray at the French Grand Prix, which served as round four of that year's championship, the iconic team manager had made sure to poach the great Fangio from Maserati.
At Reims, the much-anticipated Mercedes W196s simply annihilated the field, as El Maestro won from pole position with only his team-mate Karl Kling in the same lap under the flag.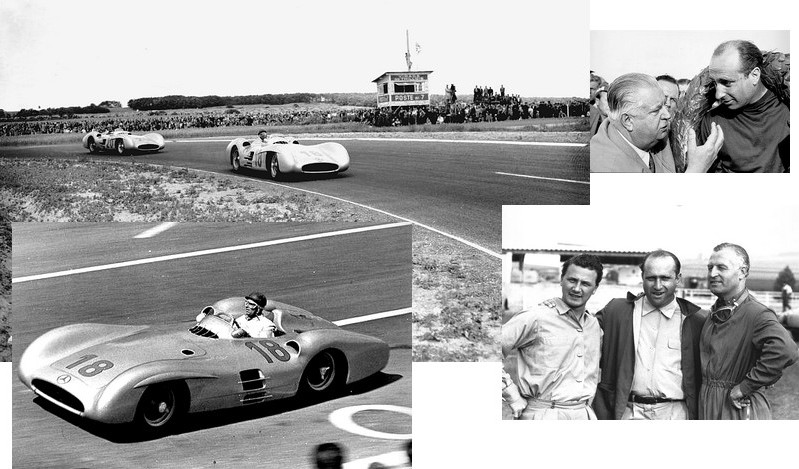 A stroll in the park: Hans Hermann (left on the image picturing the tree drivers) retired but #18 Fangio and Kling claimed a dominant 1-2 finish on Mercedes' F1 debut under the leadership of Neubauer (top right picture).
Fangio added another three wins that year to claim his second Drivers' title (he had also clinched a pair of victories with Maserati in the early stages of the season before his Mercedes switch).
The German manufacturer extended its dominance into 1955, as Fangio and his young new team-mate Stirling Moss combined for a quintet of wins. Despite title number three for the Argentine, Mercedes pulled out of motorsport at the end of the season in the wake of the 1955 Le Mans 24 Hours disaster where Pierre Levegh's 300 SLR crashed into the crowd and over 80 people, including the French driver, perished.
Mercedes' record during its first stint as an F1 constructor remains remarkable: nine race wins and seven pole positions out of 12 grand prix starts.
It would take 38 years for the German constructor to come back to the sport, first as an engine supplier to Sauber, McLaren, Force India, and Brawn. A takeover of the latter then saw Mercedes return as a works team in 2010 and convinced seven-time world champion Michael Schumacher to come out of retirement.
Since the introduction of the 1.6-litre V6 turbocharged power units in 2014, Mercedes' factory team has been ruling the F1 roost with seven consecutive championship doubles, 106 race wins and 118 pole positions. Even the original Silver Arrows cannot boast such a success rate!