Brawn GP, 2009 Australian Grand Prix – Melbourne
Granted, the Brawn GP team did not spring forth onto the F1 stage out of the blue in 2009 for it was stemming out of Honda's previous works team, the Japanese constructor having pulled the plug in the wake of two dismal campaigns.
Ross Brawn, who had served as Honda's technical director, did not want to see the team disappear. For lack of a buyer, the former Ferrari man took over the squad, named it after him, kept Jenson Button and Rubens Barrichello as the driver line-up and managed to secure a Mercedes power supply.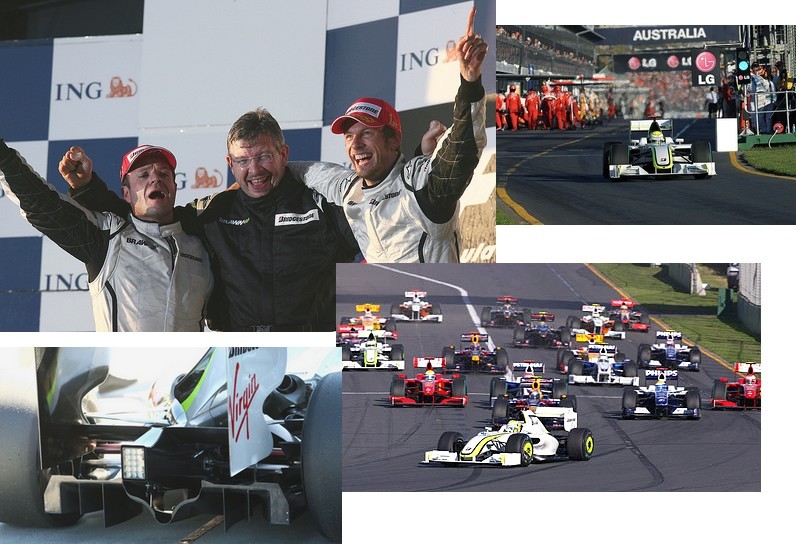 Brawn GP's silver bullet – the double diffuser –, which Button and Barrichello immediately put to good use in Australia
As early as pre-season testing, Brawn GP stunned the F1 paddock, with the white and neon yellow-liveried BGP 001 showing blistering pace thanks to its controversial double diffuser. Other teams did not wait long before lodging an appeal with the FIA but the sport's governing body ruled the device legal.
Brawn locked up the front row at the season-opening race in Australia, with Button and Barrichello enjoying a substantial margin over their competitors around the Albert Park Circuit.
On race day, pole sitter Button quickly disappeared into the distance to record a lights-to-flag victory, while his Brazilian team-mate ensured an incredible 1-2 finish for Brawn. But the Brazilian veteran had to work for it, recovering from a sluggish getaway and taking advantage of Red Bull's Sebastian Vettel and BMW-Sauber's Robert Kubica colliding and crashing out of the race two laps from the end. The ensuing Safety Car period failed to mask Brawn's dominance in Melbourne, as Jarno Trulli claimed third for Toyota.
Button rode the Australian GP momentum, winning six of the first seven races to build an early and ultimately unassailable title lead. However the competition, most notably Red Bull, caught up with Brawn by Silverstone in adding the efficient double diffuser to their challengers.
While Barrichello returned to winning ways in Valencia and claimed another popular victory in Monza, Button failed to add to its tally but his consistency proved enough to fend off Vettel's challenge.
Brawn's success was total with the team also beating Red Bull to the Constructors' championship, which made it an enticing prospect for Mercedes. The German manufacturer bought Brawn GP out to return as an F1 constructor ahead of the 2010 campaign. And the rest, as they say, is history.