The first race weekend in a long time which started with genuine uncertainty over which team would win ended with a familiar result in China, with Mercedes taking another one-two. F1i looks back at how the race weekend unfolded and opens itself up to future ridicule by checking just how accurate its podium prediction was…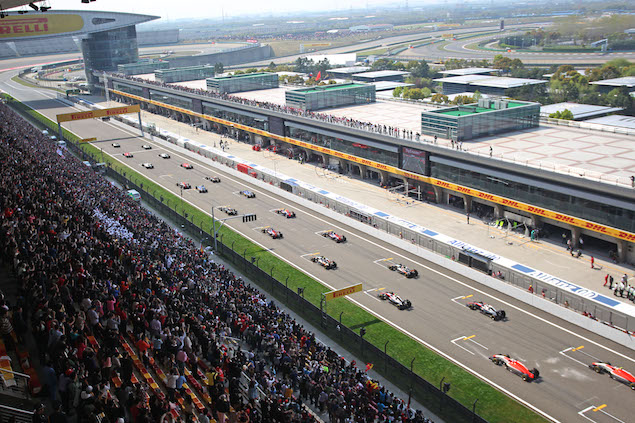 The race in 100 words
Mercedes locked out the front row and duly held on at the start of the race, with Lewis Hamilton easing away from Nico Rosberg. Kimi Raikkonen quickly got up to fourth place and Ferrari applied pressure in the middle stint - much to Rosberg's annoyance as he believed Hamilton was holding him up - but the Mercedes advantage became clear in the closing stages as Hamilton took a comfortable win. Williams was a distant but safe fifth and sixth ahead of Romain Grosjean, while Red Bull struggled and Max Verstappen was robbed of points in the closing laps after another impressive drive.
Driver of the weekend
It seems easy to pick the race winner, but Lewis Hamilton was a clear class above in China as he dominated the weekend. Fastest in all three practice sessions, Hamilton took pole with an impressive first lap in Q3, and arguable his only mistake was not improving on his final run. From pole he led all but one lap and set the fastest lap - by some margin - when he upped the pace with ease on his way to a second victory of the season.
Move of the race
Away from the front of the field there were a number of good battles as drivers with good race pace fought through. One such mover was Verstappen, who showed immense confidence on the brakes to pull off a robust move on Marcus Ericsson in to the Turn 14 hairpin. It was an excellently executed late manoeuvre which required the cooperation of Ericsson to avoid contact, with the element of surprise a key part of pulling it off.
Prediction accuracy
Podium: 1. Lewis Hamilton, 2. Nico Rosberg, 3. Sebastian Vettel
F1i's pre-race prediction: 1. Lewis Hamilton, 2. Nico Rosberg, 3. Sebastian Vettel
Weekend recap
Friday
Hamilton tops FP2 as fan runs on track
Saturday
Hamilton edges out Rosberg for pole in China
Sunday
Hamilton wins as Mercedes repels Ferrari