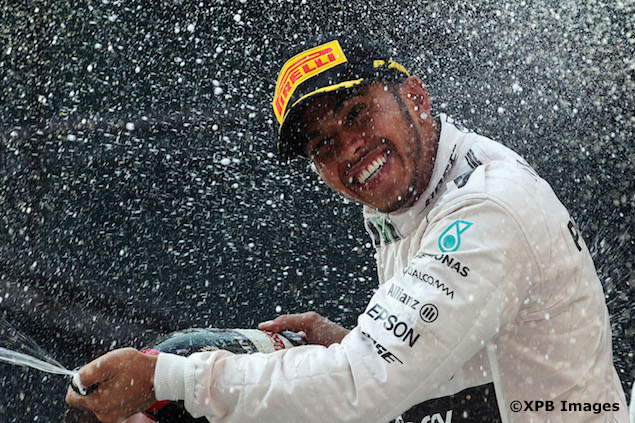 2014 world champion Lewis Hamilton remains the richest sportsman in Britain, but Jenson Button has dropped to third in the list.
Hamilton was top of last year's list - compiled by the Sunday Times - with a fortune of £68million. That amount has increased by £20m, which is the largest of any of the top ten as the 30-year-old double world champion retains top spot in 2015 with a wealth of £88m.
Button has been overtaken by England footballer Wayne Rooney in second place, with Rooney boasting a fortune of £72m, putting him £1m ahead of McLaren's 2009 world champion.
Hamilton and Button are the only two figures from Formula One represented in a top ten which is largely made up of footballers and golfers as well as tennis star Andy Murray and basketball player Luol Deng.
The Sunday Times Sport Rich List top ten:
| Pos | Sportsman | Sport | 2015 | 2014 |
| --- | --- | --- | --- | --- |
| 1. | Lewis Hamilton | Formula One | £88m | (£68m) |
| 2. | Wayne Rooney | Football | £72m | (£60m) |
| 3. | Jenson Button | Formula One | £71m | (£63m) |
| 4. | Andy Murray | Tennis | £48m | (£40m) |
| 5. | Rio Ferdinand | Football | £44m | (£44m) |
| 6. | Steven Gerrard | Football | £42m | (£37m) |
| 7. | Luol Deng | Basketball | £40m | (£36m) |
| 7. | Jose Mourinho | Football | £40m | (new) |
| 9. | Frank Lampard | Football | £39m | (£37m) |
| 10. | Sir Nick Faldo | Golf | £38m | (new) |
| 10. | Ryan Giggs | Football | £38m | (£36m) |
| 10. | Rory McIlroy | Golf | £38m | (£28m) |
| 10. | Arsene Wenger | Football | £38m | (new) |
Click here for a look at the brake-by-wire system which caused Mercedes problems in Bahrain
Keep up to date with all the F1 news via Facebook and Twitter