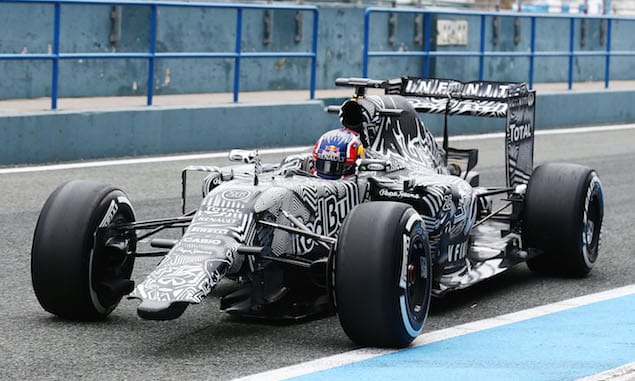 Red Bull team principal Christian Horner says Daniil Kvyat may have to run without a front wing for the rest of Monday after damaging the only one the team has.
Kvyat emerged from the pit lane during the morning session without a front wing on the car, and carried out an installation lap before return to the garage. Horner explained the front wing had been broken during an earlier lap and the team wanted to gain more data so sent the car out again but would have to limit its running on Monday.
"Unfortunately Daniil had a very slight off on an install lap this morning on a cold track," Horner said. "He was just changing something on the steering wheel, and between turns two and three just very lightly touched the tyre wall with the front wing.
"That damaged the front wing. It's the only front-wing assembly we have in Jerez at the moment, which is relatively usual for this time of year when you are not abundant with spare parts.
"There are more components coming down later today, this evening and over the next two days. We'll have a new front wing certainly by 

tomorrow

 morning."
Horner then joked: "What I should really be telling you is we've so much downforce we don't need the front wing! We're just trying to balance the car."