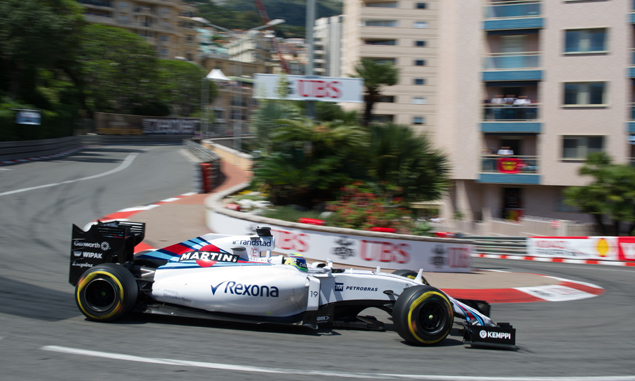 Felipe Massa hopes Williams can "forget what happened" during last weekend's Monaco Grand Prix where the Grove-based squad failed to score any point for the first time this year.
The Brazilian's 14th-place finish and team-mate Valtteri Bottas' P15 capped a tough event that never saw the British outfit in contention at the front.
Although Massa admits tyre management did hinder his progress through the narrow Monte Carlo streets, the 34-year-old thinks this is not the sole reason why Williams struggled in the Principality.
"Everything was difficult for us," said Massa. "We were missing overall grip in the car, whatever tyres we try. So it can be that the tyres were not working but maybe it was not working the whole weekend.
"We were suffering here, the whole sessions, qualifying, the race. I'm not so sure it was just the tyres."
Despite the setback, Massa remains upbeat about Williams' prospects over the next few races and believes their poor Monaco showing was partly due to the track's unique layout.
"I think what happened last weekend won't happen again. This is the worst track for us and I'm pretty convinced our car can work much better.
"I'm very confident for Canada, I'm very confident for Austria, even for Silverstone. I think we're going to strong tracks for us. I'm sure we can forget what happened [in Monaco]. I'm sure we can be even stronger on these tracks compared to what we've been doing [so far this year].
Massa's confidence rests on the planned upgrades his team has in the pipeline for next month's Austrian Grand Prix, a race where he started on pole last year.
"I don't how many new pieces we will have for Canada but for sure for Austria, we should have quite a big step. I really believe there can be some good steps for our car. Maybe it can even be the biggest step we make in the season.
"Many people brought a lot of new parts for Barcelona and we could not, so maybe our race is coming a little bit later."
Click here for a look at some of the best quotes from the Monaco Grand Prix weekend
Keep up to date with all the F1 news via Facebook and Twitter