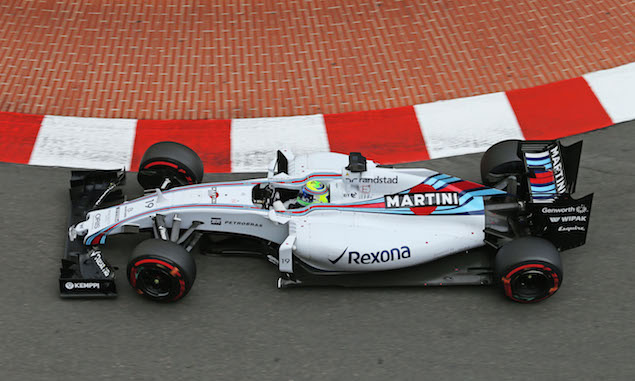 Williams' head of vehicle performance Rob Smedley says the team will have updates at the Canadian Grand Prix followed by a major upgrade package in Austria.
The Monaco Grand Prix saw Williams struggle to get any performance out of the tyres, resulting in neither driver scoring points for the first time this season. Heading to Canada next weekend, Smedley says there will be a number of new parts in Montreal as well as a bigger package of upgrades for the following race in Austria which should see Williams challenging near the front once again.
"We've got some updates coming in Canada," Smedley said. "They should be really healthy from lots of different areas. We've got quite a big package coming in Austria. Without going in to details, that's going to be a really healthy step, so we're really looking forward to getting that on the car, and then it's going to be a series of constant developments.
"I think we showed in Spain which was a much more normal track that we kept pace with all of the top teams. [Monaco] was a bit of an anomaly where we couldn't get the car or the tyres to work, therefore we put ourselves way out of position, you couldn't really see where we were or how good we are. Going in to Canada I think we'll get back to our normal position, plus we've got upgrades coming there."
And Smedley says the Canadian Grand Prix is the start of a run of races which he believes will see strong performances from Williams.
"In Austria, it's a circuit that suits our car as we saw last year. With a bit of help from Mercedes Grand Prix and their two drivers we were able to lock out the front row. In Canada we were really, really quick, we had some reliability problems and Felipe had an accident. Then in Great Britain that was the part of the season where we really started to come in to our own, getting lots of podiums and bagging lots of points during the season.
"So I think the next three races I'm really confident about, but if you want to go back to the problems we had [in Monaco], we will go away, do our due diligence and we'll ensure that even if we did see those problems in Canada - which I'm entirely convinced we won't - we'll be ready for them."
Click here for a look at the FIA's clampdown on front wing flexibility 
Keep up to date with all the F1 news via Facebook and Twitter