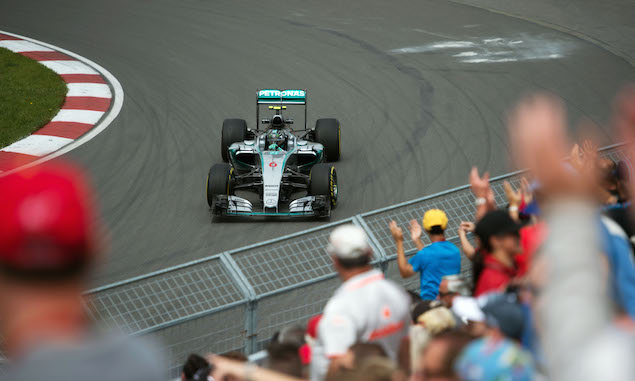 Nico Rosberg set the fastest time of a disjointed final practice session for the Canadian Grand Prix as two red flags interrupted running.
In cool conditions, Kimi Raikkonen was heading Rosberg by just 0.001s when Felipe Nasr crashed heavily in bizarre fashion with 20 minutes remaining of the session. Attempting to warm his tyres up, Nasr lost control of his Sauber on the long back straight approaching the final chicane, and speared in to the wall on the inside of the track.
With the Sauber heavily damaged and leaving debris across the track, ten minutes were lost as the car was recovered. A busy track at the restart saw Rosberg improve to a 1:15.660 to go fastest, but running was soon halted again as Jenson Button stopped on track.
Button's McLaren stopped at Turn 7 and couldn't be recovered in time for the session to restart. It capped off a frustrating final practice for the team, with Fernando Alonso requiring a power unit change and completing just three laps in the closing minutes before his team-mate's problem cost him any more running.
Lewis Hamilton was another driver to struggle in FP3, ending the session slowest and with just nine laps to his name. Hamilton and Rosberg had both stayed in the garage early in the session as the track cleaned up following overnight rain, but having skipped the opening 20 minutes Hamilton then struggled on his first run and returned to the pits before Nasr's crash.
With Hamilton straight out on supersoft tyre after the first red flag, he then missed his braking point at Turn 1 and had to cut Turn 2 but was unable to start another run before the second stoppage.
With such low grip levels, a number of drivers were struggling but Raikkonen seemed more comfortable in the Ferrari as he went quickest before Rosberg's late lap. Raikkonen was one of the few drivers to improve before Button stopped on track, with Romain Grosjean in third unable to after running wide at the hairpin.
Grosjean had been just 0.011s off Raikkonen's time on soft tyres as Lotus continued to look strong, posing a threat to Williams in this afternoon's qualifying session. It looks set to be a close battle between the two teams, with Valtteri Bottas fourth and Felipe Massa seventh having failed to improve on the supersoft tyre.
Sergio Perez and Daniil Kvyat were fifth and sixth between the two Williams', with Sebastian Vettel in eighth having been unable to set a representative time on the supersofts. Carlos Sainz and Pastor Maldonado rounded out the top ten, with a number of drivers failing to complete a qualifying simulation run.
Click here for Friday's gallery from the Canadian Grand Prix
Keep up to date with all the F1 news via Facebook and Twitter
| Pos | Driver | Team | Time | Laps |
| --- | --- | --- | --- | --- |
| 01 | Nico Rosberg | Mercedes | 1:15.660 | 17 |
| 02 | Kimi Raikkonen | Ferrari | 1:16.233 | 20 |
| 03 | Romain Grosjean | Lotus | 1:16.772 | 14 |
| 04 | Valtteri Bottas | Williams | 1:16.914 | 17 |
| 05 | Sergio Perez | Force India | 1:16.993 | 16 |
| 06 | Daniil Kvyat | Red Bull | 1:17.021 | 19 |
| 07 | Felipe Massa | Williams | 1:17.122 | 18 |
| 08 | Sebastian Vettel | Ferrari | 1:17.197 | 18 |
| 09 | Carlos Sainz | Toro Rosso | 1:17.396 | 25 |
| 10 | Pastor Maldonado | Lotus | 1:17.573 | 12 |
| 11 | Marcus Ericsson | Sauber | 1:17.578 | 21 |
| 12 | Nico Hulkenberg | Force India | 1:17.876 | 14 |
| 13 | Daniel Ricciardo | Red Bull | 1:17.892 | 18 |
| 14 | Felipe Nasr | Sauber | 1:18.446 | 12 |
| 15 | Jenson Button | McLaren | 1:18.473 | 18 |
| 16 | Max Verstappen | Toro Rosso | 1:18.492 | 18 |
| 17 | Will Stevens | Manor | 1:19.822 | 16 |
| 18 | Fernando Alonso | McLaren | 1:19.874 | 3 |
| 19 | Roberto Merhi | Manor | 1:20.231 | 16 |
| 20 | Lewis Hamilton | Mercedes | 1:21.492 | 9 |