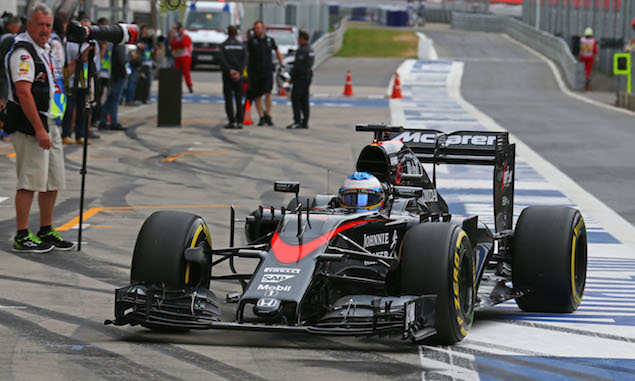 Fernando Alonso says the penalties he will receive at this weekend's Austrian Grand Prix makes the race a test for him.
The Spaniard is set for a 20-place grid penalty as a result of changing a number of power unit components, meaning he will also have to serve some form of penalty during the race. Having run a number of updates during Friday practice, Alonso says he writing Austria off as a test session and is wary there may be similar races in future.
"Definitely it's a little bit disappointing when you have that penalty before you start the weekend," Alonso said. "But in the factory last week we knew what was the goal of this weekend, which was the aero package and the improvements that we brought here and to have a clear answer when we finish the race here.
"We have to use this weekend as a test. We have to sacrifice some weekends and unfortunately this is one of those and I think there are more to come. For the rest of the season we will have a few of these ones, but if we learn things it will be very useful and today we didn't manage to do so, so tomorrow we need to recover time."
With both Alonso and team-mate Jenson Button hitting reliability issues on Friday, Alonso says McLaren was careful with its power units and will take time to look in to the problems.
"We have some time ahead of us and we need to investigate properly why this happened today. We have, I'm sure, some solutions for tomorrow and it's the way it is with technology that is so complex. These days in Formula One little things stop cars running, even in FP1. A wrong number in the software doesn't allow the car to put it in first gear and you stay in the garage until you discover that little number is wrong.
"There are things we need to fix, put in place and optimise, especially because with a new aero package you need laps, you need to make some changes in the suspension and the brake balance – things you need to optimise for that kind of aero philosophy. We missed that time today and hopefully we can recover tomorrow."
Click here for F1i's exclusive interview with Daniel Ricciardo
Click here for Friday's gallery from the Austrian Grand Prix
Keep up to date with all the F1 news via Facebook and Twitter