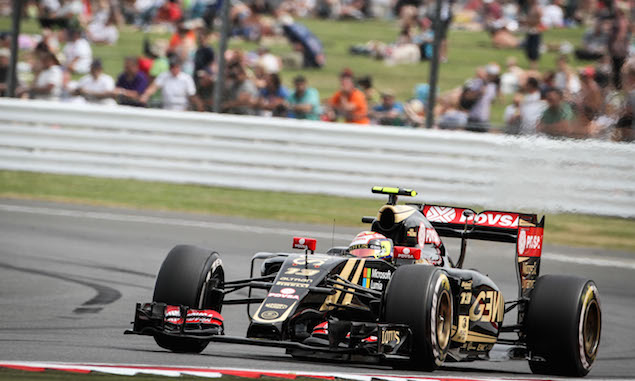 Lotus will use the Hungarian Grand Prix to analyse if it has slipped back compared to Force India and Red Bull.
Force India introduced a B-spec car at Silverstone and duly scored points with both drivers, while both Red Bulls also outqualified the two Lotus cars. Deputy team principal Federico Gastaldi says the early retirements of Romain Grosjean and Pastor Maldonado in Britain has left the team unsure if its rivals have moved ahead on pace.
"The race for us was unfortunate as both our cars were eliminated very early," Gastaldi said. "Looking at the weekend as a whole, we weren't able to show the pace we've seen at most venues this season. Budapest should highlight if this was just a characteristic of the Silverstone circuit or if our rivals have stolen a march on us."
And Gastaldi says he takes only limited satisfaction from Lotus' more competitive position compared to 2014 due to the knowledge of how strong the team has been in the past.
"In terms of performance, when you look at where we were last year it's clear we've taken a big step forward. When you look at where we were two or three years ago, it's clear we have potential for further improvement.
"With the car we can make some progress in the areas of speed and reliability, but that is always the case; you always want the car to be faster and to never break down or have any issue.
"In the commercial domain we've been developing our relationship with Microsoft and this is highlighted by how we're promoting their Lumia brand. There's more to come too."
Click here for an exclusive Q&A with Red Bull's Adrian Newey
Keep up to date with all the F1 news via Facebook and Twitter