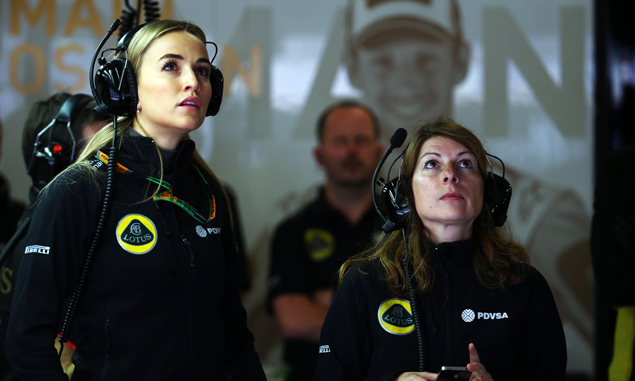 Lotus' Carmen Jorda describes her 2015 season with Enstone as "an amazing experience", with the ex-GP3 racer busy learning the ropes behind the scenes.
Lotus appointed the Spaniard to a Formula One development driver role ahead of the new season, announcing that Jorda would follow a "significant simulator programme". The 27-year-old was also promised a maiden run in this year's E23, though she has yet to complete it.
Jorda, who was a regular feature in the Lotus garage on race weekends, says her position has provided her with the unique opportunity to discover F1 at first hand.
"It was a really good year for me and an amazing experience in which I learnt a lot from everyone at Enstone," she told the team's official website. "The team and I have been through a lot of exciting moments, and some slightly more challenging. I think there was a good balance through the year though!
"The most important thing I learnt was the whole hidden process to goes into driving a Formula One car. There's so much that goes around that which I wasn't aware of. I've been driving cars for years but it's just not the same so it was a big learning experience for me."
After Williams development driver Susie Wolff's retirement from motor racing, Jorda remains the only female driver currently involved in F1. The Spaniard hopes she can extend her spell at Lotus, which recently became Renault's works outfit once again.
"Hopefully I'll have good news to announce with the team and I'm excited to see what the future holds and for something new. We're all hoping for a good end the year after a challenging year."
Grosjean: I thought Webber was going to punch me
Late Renault update was 'a tiny spec' of 2016
Use the red tabs on either side of the screen to scroll through more Formula One news and features
Click here for a gallery of the McLaren MP4-X
Keep up to date with all the F1 news via Facebook and Twitter