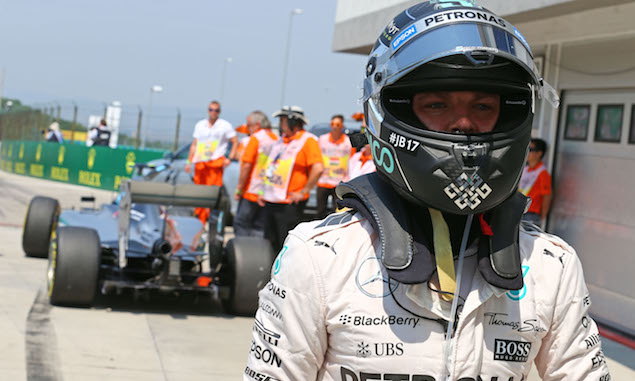 Nico Rosberg does not know why he struggled so much in qualifying for the Hungarian Grand Prix after losing out to team-mate Lewis Hamilton by over half a second.
Having complained about the balance of his car at the start of Q1, Rosberg seemed more comfortable as qualifying went on and looked set to challenge for pole position on the final runs. However, Rosberg failed to improve significantly as Hamilton put in a much faster time and he admits he needs to seek answers ahead of the race.
"I don't have an explanation," Rosberg said. "Qualifying went pretty much as planned and everything, but I just didn't find the pace and it's been a bit up and down all weekend for some unexplained reasons. So we just need to look in to it tonight. I'm definitely not happy with the way it went today.
"Generally I just wasn't happy and I don't understand it so we need to look in to it. It was a bit inconsistent, so it's difficult to explain, but I don't know. I just wasn't happy with the general way qualifying went."
However, Rosberg says one potential positive is the balance he had in qualifying should be better suited to a race distance than one lap.
"There is going to be some opportunities, definitely, in terms of strategy. Let's see. We've got to go in to that tomorrow morning when strategy is discussed. If anything that balance is for the race, which is not what I wanted but that's the way it's gone."
AS IT HAPPENED: Hungarian Grand Prix qualifying
Click here for a gallery of Sergio Perez's crash in FP1 at the Hungarian Grand Prix
Keep up to date with all the F1 news via Facebook and Twitter