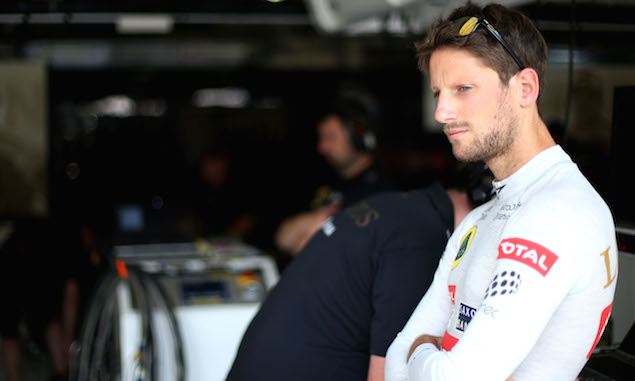 Romain Grosjean is growing frustrated by uncertainty over the ownership of Lotus, saying it is hurting the team's season.
Renault is set to take Lotus over as it looks to return to F1 with full constructor status having only been an engine supplier since the end of 2010. However, the uncertainty means little money is being put in to the team by the current owners Genii Capital, and Grosjean says it is affecting the team's competitiveness having started the year with a strong platform.
"The development hasn't been as good as we wanted and it's not due to people or brains that we have in the factory because we have got a lot of ideas in the pipeline," Grosjean said. "I think the CFD and the wind tunnel and the design office are working very well, it's just at the minute we cannot bring them on track.
"When you're thinking about selling a team, you won't put any more money in at some stage because it's all lost. So it's just a bit of a waiting situation and hopefully soon we know more and then we can move ahead because from day one the baseline is good and where we came from last year it is a huge step forward.
"So it shows we know how to understand problems and solve them on paper, but after that it's clear we need to move forward and from that good baseline put some more performance on the car, and we couldn't achieve that."
And Grosjean admits he can see how challenging it is for everyone in the team to be in such a situation where there is potential to develop the car.
"It's frustrating for everyone. The engineers love to create their new ideas, they love to put it on the car to see if it works or not. The drivers love to perform and get a car that goes quicker and quicker. Of course the situation is not ideal right now but it's a bit of an in between game and it should be better soon."
Felipe Nasr's exclusive F1i column: From the cockpit
Click here for a lighter look at some scenes from the Hungarian Grand Prix
Keep up to date with all the F1 news via Facebook and Twitter