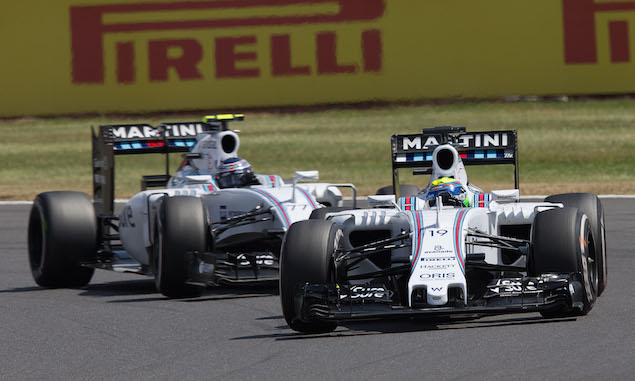 Williams F1 driver Valtteri Bottas says the team needs to improve its performance in long corners to give them consistency.
The team has had a notably uneven season so far in 2015, and Bottas identified the FW37's performance on circuits with long, slow corners as being a particular issue for the squad.
"We've seen we really struggled with long corners," Bottas told reporters. "When you spend more time in the corners, that's when we lose out.
"We struggle to get to the same high downforce level that many other teams can, so that's the problem."
On the positive side that means that the team should do well at the high-speed, low-downforce circuits coming up in the second half of the 2015 season.
"It will be a different story in Spa, where it's quite low downforce - same in Monza. We should be more competitive there. It is pretty good for our car with the long straights and high speed corners.
"We are looking forward to it and it will be a very different story to [Hungary]," he said. "But we need to keep pushing because you still need the downforce in Singapore or Suzuka."
Bottas added that he was hopeful that a new front wing used by the team in Hungary will be an important incremental step forward in this problem area.
"I think [the new wing improved] overall downforce while cornering but the step was quite small - but anything helps," he said. "Now there is time for the team to manufacture more wings or the rest of the year. It is an interesting action for car development, not a big step but more expected in the future."
Bottas' team mate Felipe Massa also said that the team's slump in form at Hungary a week ago would not become a trend for the team, but agreed that Williams needed to learn lessons from the Hungaoring before heading to Singapore which is a similarly tight, twisty circuit.
"We have another slow circuit which is Singapore so we need to do everything that we can to be competitive," he said. "I don't think that what happened we will see in every race.
"We will have many, many good tracks which are good for us," he added.
Williams must go forward in race - Smedley
Click here for a lighter look at some scenes from the Hungarian Grand Prix
Keep up to date with all the F1 news via Facebook and Twitter