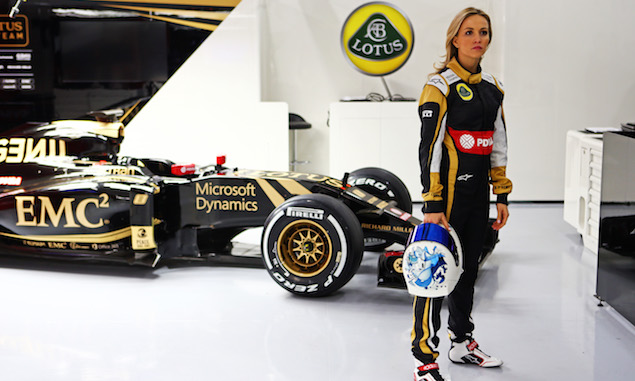 Former WRC driver Michele Mouton has played down remarks that appeared critical of Lotus F1 development driver Carmen Jorda.
The president of the FIA's women in motor sport commission had criticised the trend toward appointing female drivers purely for PR reasons, which many had taken as a pointed attack at Jorda in particular.
The 27-year-old Spanish driver was hired by Lotus at the start of the year despite under-performing in the GP3 Series in 2014, ahead of other male drivers with seemingly better claims to the role.
But Mouton insisted that her remarks had been taken out of context and were not meant personally toward any current driver, but were a contribution to the wider discussion about how to improve the role of women within the sport as a whole.
"For me there is no controversy," said Mouton, who was runner-up in WRC in 1982. "I only spoke about women drivers that reach Formula One should do so based on their results.
"I don't remember exactly what I said, but we talked about a few names and what I advocate is that women can be in Formula One.
"I have nothing against Carmen, and I wish her well," she insisted in remarks to the Spanish newspaper AS. "But if you ask me who should be in Formula One, I think there are people with better results than her.
"That's it. I have nothing against her," she added. "End of story. No more controversy. In the press they have my words out of context, nothing else."
Mouton did go on to praise the positive example of other female role models currently working within the sport.
"We have women competing in F1, but it is a leading a team. And I have to say to young people is that in our sport, if you want to then you can. And there are several examples to prove it such as Susie Wolf, Claire Williams or Jutta Kleinschmidt. And María de Villota, who we remember of course. She was a very strong woman, who taught us all great things. It makes me want to mourn to remember.
"There are no women in the top of the racing because they are not in the base. Surely if we get more quantity, we will have more quality," she added. "I'm convinced that if we have more women participating, will be easier than ever reach the top. A lot of young men compete in karting and various formulas, but very few reach Formula One."
As for Bernie Eccleston's idea of an all-female motorsports championship, Mouton played down that speculation and said that it was too early and not practical at this time.
"We're not prepared. We could not fill a grid of women competing in Formula One. It is the right path, hopefully someday we can."