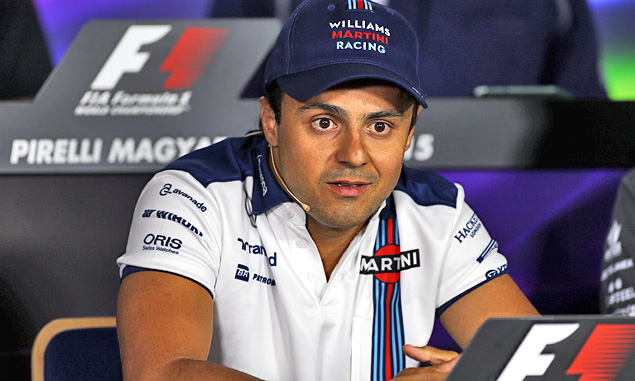 Felipe Massa says that he hopes to stay at Williams for another year, regardless of who his team mate there turns out to be.
"I hope so," he replied, when asked last week whether he expected to stay at Grove for another season beyond the end of his current initial contract with the team.
Massa joined the team in 2014 after eight seasons at Ferrari, and has been on the podium on four occasions most recently at the Red Bull Ring in Austria in June.
"Nothing's changed at the moment, I don't see why I should not be there.
"I'm really enjoying working with the team. The team is really respecting me 100 per cent and I think enjoying the way I work with the team as well.
"I see that the team is growing, growing and getting stronger most of the time."
Much of the recent speculation about driver moves have centered around Mossa's current team mate at Williams, Valtteri Bottas, who has been repeatedly linked with a transfer to Ferrari in 2015 to replace Kimi Raikkonen.
However both Bottas and Raikkonen both have valid contracts with their respective teams for 2016, making any potential moves tricky if not outright impossible without hefty pay-outs by Maranello to the affected parties.
Massa himself said last month that he wasn't surprised that Bottas was at the centre of all this media attention regarding his future in Formula One.
"I think he is one of the most important names on the market," Massa had said. "He shows he is a good driver, he has the talent to drive in a top team, and he shows he can do well, whatever team he is racing for. That's why all the teams are interested to get him."
Not that Massa has entirely escaped press attention himself, with a report circulating in July suggesting that Williams were not going to exercise their one-year option to retain the 34-year-old Brazilian, who has 220 starts to his name in Formula One since his début with Sauber in 2002.
"I don't think really this guy has the right information," said Massa when asked about the recent article. "I think he just put [it] in the paper.
"I believe I will drive for Williams next year," he insisted.
"I think maybe the chance that this guy is correct is bigger than... he's risking the way that he can be correct."
Click here for F1i's mid-term report on how the Formula One teams have fared so far in 2015
Keep up to date with all the F1 news via Facebook and Twitter