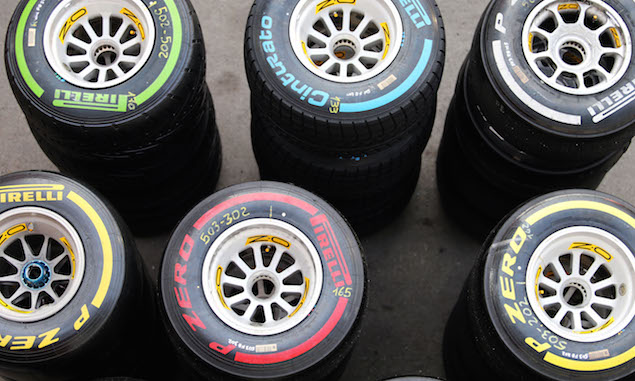 Team bosses still haven't been able to agree a timing or venue for the first official test of the new 'super-supersort' tyre compounds.
Pirelli is currently hoping to be able to offer teams the option of a fifth dry weather compound in 2016 in addition to the company's existing line-up of hard, medium, soft and supersoft, in response to complaints from teams that the existing range still doesn't suit the demands of specialist circuits such as Monaco and Singapore.
"[There are] maybe four circuits - Canada, Monaco, Singapore for example - where you need a much softer tyre than what we currently have with the supersoft," admitted Pirelli motorsport director Paul Hembery.
"We're still hoping to develop some ideas where we can address, certainly, the harder tyre, which is in need of a modification, and a product that can be used on the true street circuits.
"We've probably been a little bit conservative on some of the choices so we're not hitting the target which we've always been asked to do, which is a two- or three-stop race, and that is something we hope to address for next season."
But before any new compounds can be safely introduced, the teams will need to be able to test them in track conditions - and disagreements between team bosses on when to hold such a test are now threatening to push back the testing of any new tyres to January 2016 at the earliest.
According to Germany's Auto Motor und Sport publication, new tyres were originally going to be rolled out in an additional day of testing at Abu Dhabi, and when that proposal fell through a revised plan to allow for an extra half hour of track time at the Hungaroring last month was mooted - which also did not materialise.
Now the smaller teams on the grid say that there should be extra track time on the Friday ahead of either the Singapore and/or Abu Dhabi Grand Prix events to test the new compounds, but that's reportedly not found favour with Red Bull Racing which has instead voted to hold off for the time being in preference for an extra test in January at Sepang instead.
That would be a costly addition to the Formula One pre-season calendar, not to mention an inconvenient one for the teams who will be hard at work finalising their cars for 2016. As a result that suggestion too will likely also be vetoed.
On top of the super-supersofts, teams also need to schedule in a test of rain tyres at the Circuit Paul Ricard in France on January 25 and 26.
The track hosted the French Grand Prix 14 times between 1971 and 1990 but is no longer considered suitable for a full-scale modern Formula One event. Since its purchase by Bernie Ecclestone, Paul Ricard has been reconfigured into an advanced test facility which includes the facility to artificially water the track - making it ideal for the wet weather tyre test - while its European location also makes it an easy sort-range commute for a majority of the Formula One teams, many of which are based in the UK.
Click here for F1i's mid-term report on how the Formula One teams have fared so far in 2015
Keep up to date with all the F1 news via Facebook and Twitter