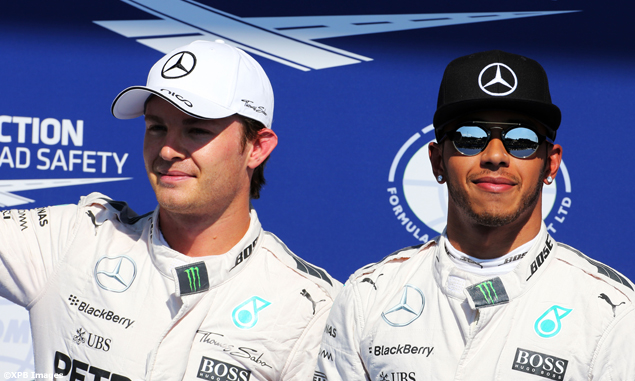 Nico Rosberg admits he could not match Mercedes title rival Lewis Hamilton in qualifying for the Belgian Grand Prix, but hopes he can benefit from the new starting procedures to prevail on Sunday.
The German was quickest in both Q1 and Q2 at Spa-Francorchamps only to see his British team-mate dominate the final top-10 shootout en route to secure his 48th career pole - the 10th in 2015.
"For sure I'm disappointed," said Rosberg. "I lost a bit [of momentum] in FP3 this morning, we went the wrong way and then came back really nicely. I had good balance in qualifying so I was happy with that, good team effort.
"But Lewis was too quick in the end. He found a little extra, which I did not have in my pocket. That is of course disappointing but then again with the new start situation that we have to do everything ourselves now, there's a lot of opportunities tomorrow, even at the start and on the run up to Turn 5.
"Here it's possible to overtake. We've seen that many, many times. So my hopes are for sure still high."
Rosberg's race weekend has already been quite animated, with the 30-year-old setting the pace in the two opening free practice sessions yesterday while suffering a scary tyre blow-out in FP2.
Although Pirelli insists there was "no structural integrity issue" with its products, the current championship runner-up admits he is still unsure as to what caused his high-speed crash.
"The problem is that we don't really understand it. There is theory but no real evidence so that's a bit worrying for sure.
"But we've done some measures to make sure it does not happen again. We've done the best we can and hope it all stays together."
Click here for Saturday's Belgian Grand Prix gallery at Spa-Francorchamps
Keep up to date with all the F1 news via Facebook and Twitter