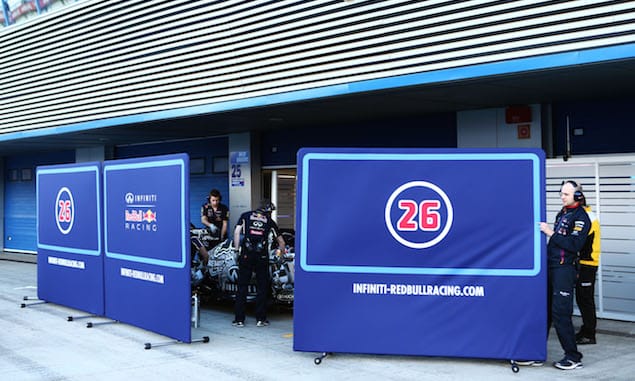 Daniil Kvyat says Red Bull is "not where we want to be" after the first test at Jerez but saw signs of improvement on the final day.
Issues with the Renault power unit has hampered Red Bull throughout the opening week, with Kvyat not helping matters by breaking the front wing on Monday and having to run without one for the rest of the day. While the final day saw Kvyat completed 64 laps - more than any other day - he said there is plenty of work to be done ahead of the second test in Barcelona.
"I think it's been a very productive day all in all for us," Kvyat said. "So we can pick up some really good points from today. Every lap counts, every lap is important and today we've managed a few laps, I think one of the most productive days of this test. We're not where we want to be, where we need to be and we will keep our progress on."
With two weeks to work on the power unit before the second test, Kvyat said he is confident the team and Renault will overcome its issues.
"Problems are always problems, you just have to sort them out. So this is not something that I can fix personally, we will keep working and everyone is supporting each other. I personally trust in Renault, I personally trust in Red Bull Racing and we will hopefully make good use of it.
"It's too early to make any conclusions from these days. There will be a lot of analysis going on and we will see. It's not easy to cut the deficit to zero in one clap of hands, so we just have to keep working hard. Only hard work, step-by-step and patience will bring us what we desire."
Click here for the full final day gallery from the Jerez test
Keep up to date with all the F1 news via Facebook and Twitter