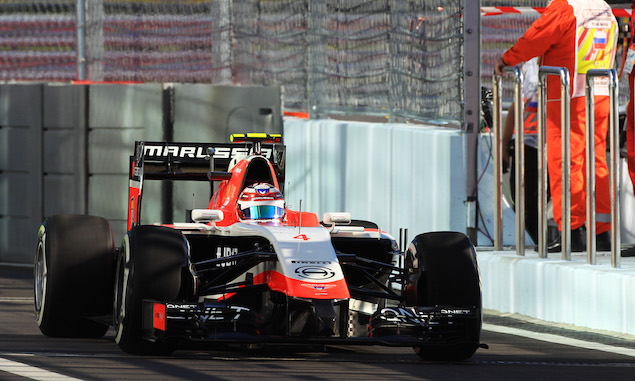 Manor - formerly the Marussia F1 team - will not be allowed to use its 2014 car if it wants to race this season, after the idea was rejected by the top F1 teams.
The Strategy Group - which features Mercedes, Red Bull, Ferrari, Williams, McLaren and Force India - met at FIA headquarters in Paris on Thursday to discuss potential changes to the future of Formula One. Also on the agenda was Manor, with the team set to exit administration on February 19 and hoping to race this year.
Due to the time spent in administration and with five weeks until scrutineering at the Australian Grand Prix, Manor would need to race its 2014 car in Melbourne. Such a move would require the agreement of all teams - a move which a number of team principals said they were happy with in Abu Dhabi last year - however, F1i understands that the proposal was rejected by at least one member of the Strategy Group.
The decision not to allow Manor to use last year's car can only officially be acknowledged by the F1 Commission, but the result of the Strategy Group meeting is likely to make this a formality.
With Manor - then Marussia - finishing ninth in the constructors' championship last season, the team would be entitled to substantial prize money of more than £30million if it were to return and race over the coming two seasons. The distribution of funds was the cause of dissent from a number of teams last year, most notably Lotus, Sauber and Force India, believing they deserve a better share of the sport's revenues from the commercial rights holder.
If today's rejection of the proposal to allow Manor to run the 2014 car causes the current bid to save the team to fail, it is understood the commercial rights holder has no obligation to add the unclaimed prize money to the funds distributed to the remaining teams. However, Ecclestone later told the Independent that the money would be shared among the other nine outfits set to race this season.
Caterham will also not be on the grid in 2015, with the team's assets set to be auctioned off.
Keep up to date with all the F1 news via Facebook and Twitter