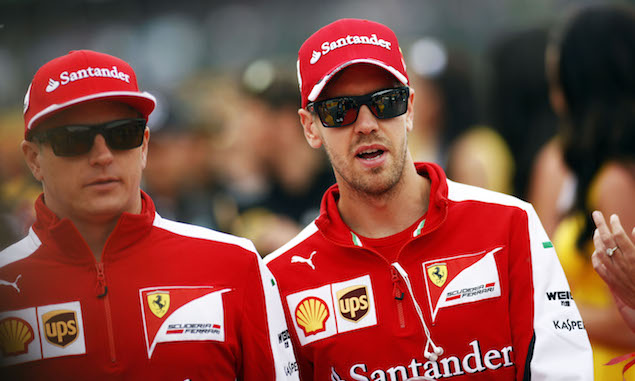 Ferrari's retention of Kimi Raikkonen alongside Sebastian Vettel will have little impact on its 2016 car, according to technical director James Allison.
Fernando Alonso comfortably outperformed Raikkonen last season, with differing driving styles seeing the Spaniard get more out of the uncompetitive F14-T. Raikkonen has been more competitive in race trim this year - finishing second in Bahrain - though has struggled in qualifying. However, despite Vettel comfortably having the upper hand, the Finn has been retained for another year.
Asked if Vettel and Raikkonen have more similar driving styles than Alonso and Raikkonen did last year, and whether that impacts on car design, Allison replied: "They are certainly closer.
"I think what Sebastian wants from a car is pretty similar to what Kimi wants and that's mildly helpful but it really doesn't make much difference in the way that you set about designing the car. You're looking for downforce, they both like that. You're looking for power, they both like that.
"If one likes a front ride height or a spring stiffness a bit different to another, well there's very... you've got a whole range of springs and dampers that you can fit to either car. It's only flavours of set-up that change, not fundamental design parameters of the car and that would be true whether it was Kimi, Fernando or Sebastian."
Kevin Magnussen exclusive interview: New doors opening in F1
Click here for a look back at the 1971 Italian Grand Prix from Monza, when the top five cars were covered by just 0.61s.
Keep up to date with all the F1 news via Facebook and Twitter