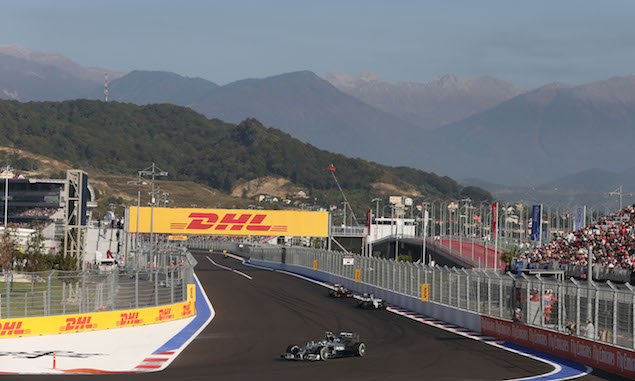 The Russian Grand Prix could become a night race in future, but it will not take place under lights next season.
With the inaugural race in Sochi having been held last year, this season's edition is scheduled for October before a switch to a slot in May 2016. Alexander Saurin, vice-governor of the Krasnodar region, and Russian GP chief executive Sergey Vorobyev have confirmed a night race is on the agenda as discussions continue regarding an extension of the current contract, but admit next season comes too soon for such a change.
"Not in 2016; we are talking about it," Saurin said, using Vorobyev as a translator, when asked about the possibility of a night race. "We are in discussions over the long-term future of the event. We have been having talks over the extension of the contract."
The current contract runs until 2020, and Bernie Ecclestone added: "We've talked about [a night race], maybe in 2017."
And Saurin says ticket sales have been strong due to Daniil Kvyat's improving form at Red Bull.
"[Sales have been] better than last year, finally. Even last year it was a sellout event and the place was very crowded, we expect and we are finding new ways to have even more people this year.
"The second place of Daniil Kvyat [in Hungary] has helped greatly. We have seen a huge increase in ticket sales right after that."
Kevin Magnussen exclusive interview: New doors opening in F1
Click here for a look back at the 1971 Italian Grand Prix from Monza, when the top five cars were covered by just 0.61s.
Keep up to date with all the F1 news via Facebook and Twitter