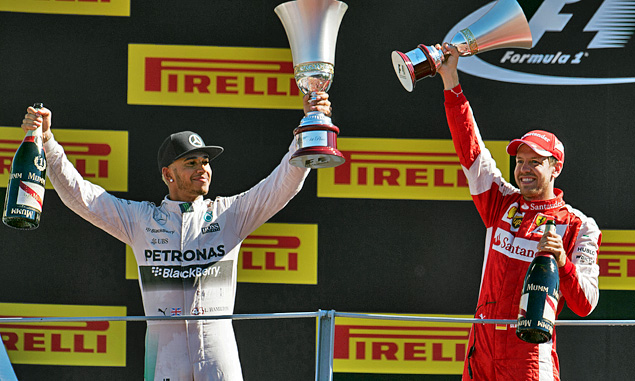 A thrilling atmosphere at Monza on Sunday was lauded by the winning drivers, with Sebastian Vettel insisting F1 can't afford to lose the Italian GP.
"The emotion on the podium is incredible," said Vettel, after finishing in second place in his first appearance at Monza as a Ferrari driver.
The future of the Italian Grand Prix at the historic Autodromo Nazionale Monza, which has hosted a Formula 1 race in every year bar once since the championship began, is currently in doubt - but Vettel insisted that it simply must be retained on the calendar.
"If we take this away from the calendar for any shitty money reasons I think you are basically ripping our hearts out," he stated.
"We are here, we are racing and this makes it so much more worthwhile. It's what we're here for. You stand on the grid, you look to the left, you look to the right, people are just happy to be part of it and it makes our day.
"Simple as that. It's incredible. So, thanks for this emotion on behalf of all the Ferrari team. Thank you."
His passionate feelings about needing to retain Monza were shared by the race winner, Mercedes' Lewis Hamilton.
"This circuit is such a special one," Hamilton said. "I think it's the same for all the drivers. When you stand on top of that podium you feel incredible pride and incredibly proud to be amongst the greats that have stood up there.
"This is one of the best tracks in the world. This has to stay here for moral reasons.
"All those fans out there who come every single year. Are you going to take this Grand Prix away from us and put on another one? That would not have the same feeling, or would not have the special impact so we definitely have to keep this."
Hamilton cruises to dominant Monza victory
2016 F1 driver line-ups so far
F1 drivers' girlfriends gallery
Keep up to date with all the F1 news via Facebook and Twitter