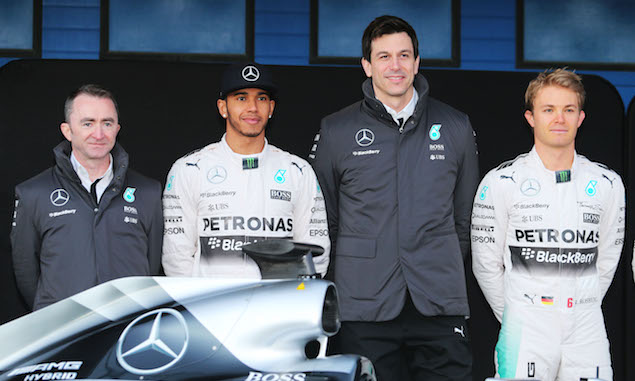 Toto Wolff says Mercedes is not heading on to the 2015 season expecting to be able to repeat its dominance of last season.
The new power unit regulations allowed Mercedes to comfortably win both the drivers' and constructors' championships, with the margin of the team's advantage so great that it won 16 races last year. However, with that record beating the previous best of 15 wins set by McLaren in 1988 - when there were 16 races in a season - Wolff said the fact it took over a quarter of a century for the record to be broken shows how unlikely a repeat is.
"That previous record of McLaren wasn't beaten for many years," Wolff said. "So it means that is something exceptional and you cannot expect it - or you shouldn't expect it - to happen again because if you set your own benchmark so high you will eventually fail and it will demotivate you.
"So our aim of course is to have a very competitive car, perform well, do the best we can and our target is to be the front-running team able to win races regularly. Thats what we expect from ourselves. If you then happen to have a season like we had last year then that's obviously exceptional, but it's not something we can really anticipate.
"The other teams have to keep themselves motivated, and not even ourselves in here having seen the car and knowing what we expect from the performance level are able to judge how it's going to pan out. It would be like trying to read a crystal ball. We can't do it so I don't expect anybody else to be able to judge what the performance level is going to be."
Click here for the full gallery of the Mercedes W06 at Jerez
Keep up to date with all the F1 news via Facebook and Twitter