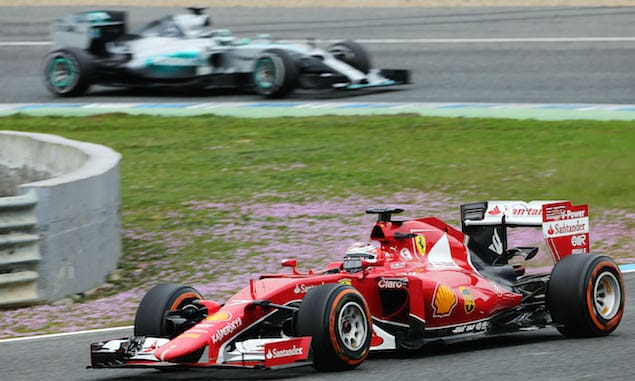 Ferrari chairman Sergio Marchionne says he is expecting to see "the ultimate proof" of the team's progress at the second test at Barcelona.
The pace of the SF15-T was one of the surprises of the first test at Jerez, with Ferrari topping the times on three of the four days of testing. While Sebastian Vettel was fastest on the opening two days and Kimi Raikkonen on day four, the Ferrari power unit looked strong as Sauber ensured Ferrari-powered cars were first and second every day.
Marchionne admits he has been encouraged by what he has seen so far from the new car, but says he is not expecting "miracles" and believes the second test will provide a real gauge of how far Ferrari has come over the winter.
"I am encouraged by the performance of the new car, though it is one thing to do a quick lap, another to do an entire race," Marchionne told the BBC. "I have so much confidence in the work of the boys. I am proud of their work.
"Now we'll see when the World Championship starts in Australia. I do not expect miracles, but it is important to see progress. At the Barcelona test (which starts on 19 February), I expect the ultimate proof of what we have done so far."
The second test runs from February 19-22 before the final test - also at the Circuit de Catalunya in Barcelona - on February 26-March 1.
Click here for the full final day gallery from the Jerez test
Keep up to date with all the F1 news via Facebook and Twitter