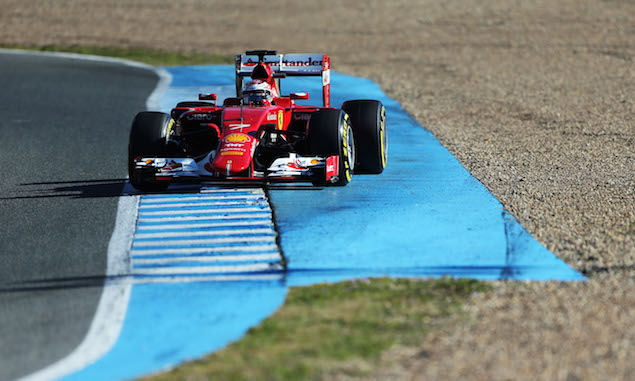 Daniel Ricciardo admits he was impressed with the way Ferrari was quick from the start of pre-season testing at Jerez and is interested to see how it performs in Barcelona.
Sebastian Vettel topped the times on the opening two days of the first test, while Kimi Raikkonen was second fastest on day three and quickest on the final day. With a lot of mileage covered as well, it was an encouraging start to 2015 for Ferrari and Ricciardo concedes it was a strong performance but wants to see if it continues in to the second test.
"Definitely the first test you try to just worry about yourself," Ricciardo told the Australian Grand Prix podcast. "But definitely we're aware of the laps Mercedes did and the lap time that Ferrari put down. It looked good. We expect nothing less of Mercedes to be honest but Ferrari look like they came out pretty strong.
"For now they look good, but it's one of those things where it's still early. Jerez is a place that we don't race at again, we never actually drive in conditions which are 5-8C and the track is really, really abrasive there, so the tarmac is a lot more aggressive than any other track.
"It's one of those things where, yeah they look good, but are they going to be the same once we start racing and in race conditions. I think Barcelona will get us a step closer to that and then we'll see where we are. But not taking anything away from them, I think they've come out in good form."
Click here for the full gallery of the first photos of the SF15-T
Keep up to date with all the F1 news via Facebook and Twitter