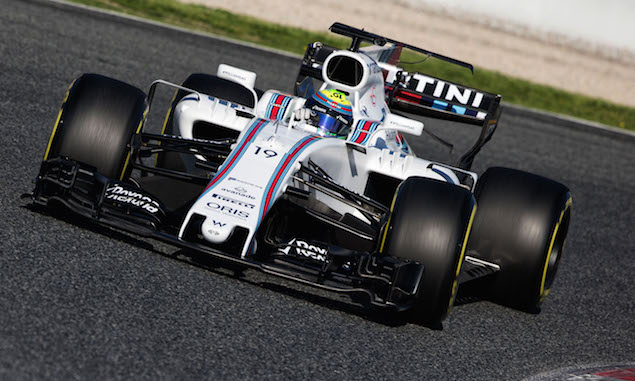 Williams' Felipe Massa sets the pace on the opening day of the second week in this year's Formula 1 pre-season testing at Circuit de Barcelona-Catalunya, as McLaren-Honda suffers more engine woes.
The Brazilian, who also topped the lap count with 168 tours, logged a fastest time of 1:19.726 on Pirelli's supersoft tyres, which is 0.021s slower than the opening week's benchmark posted by Mercedes' Valtteri Bottas on the ultrasoft compound.
Red Bull ace Daniel Ricciardo slotted into second place, with the Australian clocking his personal best on the softest tyre available.
His former team-mate Sebastian Vettel confirmed Ferrari's promising potential by placing third and only 0.006s off Ricciardo's lap time, albeit with the soft compound. The four-time world champion is tied with Massa on 168 tours in the lap charts.
Fourth quickest was Lewis Hamilton, who only drove the Mercedes W08 during a morning session that the triple world champion described as "not particularly exciting".
The Briton finished ahead of his new team-mate Bottas, who took over for the afternoon and added 86 laps to Hamilton's 49.
Behind the Finn was another Mercedes-powered driver in Force India's Esteban Ocon. The Frenchman is one of three drivers to have eclipsed the 100-lap mark on the day with 142 tours at the wheel of the VJM10.
McLaren-Honda's second week of pre-season testing initially got off to a solid start as Stoffel Vandoorne racked up the laps in the MCL32. However, fresh engine woes materialised in the form of an electrical issue, which forced Honda to use a seventh power unit this winter while also robbing the Belgian driver of valuable track time.
Vandoorne did return in the afternoon but had to settle for the 10th fastest time, some 2.8s off the table-topping pace.
McLaren was not the only team plagued with engine gremlins, as Renault experienced power unit problems in the morning, which limited Jolyon Palmer to just 15 laps and left the Briton bottom of the timesheets.
Team-mate Nico Hulkenberg took over in the afternoon and was able to run smoothly to finish seventh fastest, ahead of Haas' Kevin Magnussen and Toro Rosso's Daniil Kvyat.
Finally, Pascal Wehrlein was able to make his 2017 track debut after the new Sauber driver had to sit out the opening week in the wake of the back injury he had sustained in a crash at last January's Race of Champions in Miami.
This year's pre-season testing resumes on Tuesday at the Circuit de Barcelona-Catalunya, with the Spanish Grand Prix venue turning green at 09:00am, local time.
| Pos | Driver | Team | Times | Laps | Tyres |
| --- | --- | --- | --- | --- | --- |
| 1 | Massa | Williams |  1:19.726 | 168 | SS |
| 2 | Ricciardo | Red Bull |  1:19.900 | 89 | US |
| 3 | Vettel | Ferrari |  1:19.906 | 168 | S |
| 4 | Hamilton | Mercedes |  1:20.456 | 49 | S |
| 5 | Bottas | Mercedes |  1:20.924 | 86 | S |
| 6 | Ocon | Force India |  1:21.347 | 142 | SS |
| 7 | Hülkenberg | Renault |  1:21.589 | 57 | S |
| 8 | Magnussen | Haas |  1:21.676 | 81 | S |
| 9 | Kvyat | Toro Rosso |  1:21.743 | 83 | S |
| 10 | Vandoorne | McLaren |  1:22.537 | 80 | S |
| 11 | Wehrlein | Sauber |  1:23.336 | 47 | S |
| 12 | Ericsson | Sauber |  1:23.630 | 53 | S |
| 13 | Palmer | Renault |  1:24.790 | 15 | S |
GALLERY: F1 drivers' wives and girlfriends
Keep up to date with all the F1 news via Facebook and Twitter