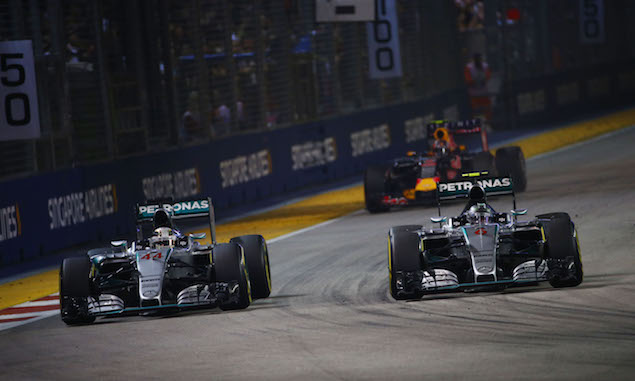 Mercedes' executive director Toto Wolff has revealed Lewis Hamilton's retirement from the Singapore Grand Prix was caused by a turbo boost leak.
Hamilton was running competitively in fourth place when he reported a loss of power and started dropping back through the field. Mercedes attempted to resolve the problem during the race but eventually retired Hamilton's car after a number of laps running off the pace.
Wolff explained after the race that a small part had failed which caused a much bigger problem.
"We had a very minor bit – a metal clamp – that broke and had a massive effect," Wolff said. "The clamp was holding the plenum together and when it jumped off it caused boost leak. It was a freak thing. We have run the design for a long time and it was a typical metal clamp and it just broke."
However, when asked if Hamilton would need a new power unit as a result, Wolff replied: "Lewis's engine shouldn't have any problems."
Hamilton felt win was possible before failure
REPORT: Vettel takes third win as Hamilton retires in Singapore
AS IT HAPPENED: 2015 Singapore Grand Prix
Click here for some of the most memorable crashes at Singapore
Keep up to date with all the F1 news via Facebook and Twitter