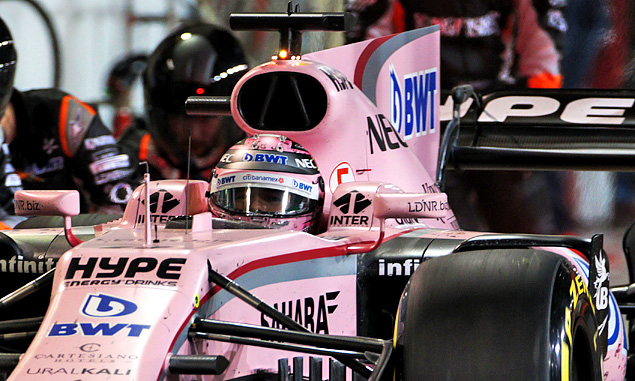 Force India's Sergio Perez was the overwhelming choice of F1i readers as Driver of the Day in Sakhir.
Almost half of everyone who voted - 49 per cent - chose Perez as the outstanding driver of the Bahrain Grand Prix.
And no wonder. Perez had a brilliant start, bounding up 11 places at the start of Sunday's race. Yellow flags had wrecked his qualifying the day before and left him starting from 18th place, but he soon took care of that.
"We didn't give up, we gave our best," he told F1i after the race. "We managed to recover and finish P7 bringing home a lot of points. Very pleased for the performance of the car and the team.
"We are fourth in the constructors championship, which is great news," he added. "It's been a great weekend. I look forward to going back to Europe and keep doing a great job.
"Thank you so much for your support!"
Perez had almost twice as many votes as Driver of the Day than the next most popular choice, which was race winner Sebastian Vettel. The Ferrari driver claimed 27 per cent of this week's vote.
In a distant third place with eight per cent was McLaren's Fernando Alonso. It would be unkind to say that this was a sympathy vote for the beleaguered two-time former world champion. In fact Alonso had been enjoying himself, energetically tangling with Jolyon Palmer and Daniil Kvyat before his last-minute retirement.
Alonso just managed to pip Lewis Hamilton. The Mercedes driver was fourth in the Driver of the Day poll with five per cent of the vote. That's despite what was for him a less than stellar race. He dropped a position to Vettel at the start, and incurred a five second penalty during the first round of pit stops. But Hamilton still has his fans, and they stood by their man as he overcome the setbacks to finish the race in second.
Sadly there wasn't much love in the poll for his team mate Valtteri Bottas. The Finn was never able to find the grip and pace he needed in the race, despite having taken a thrilling pole in qualifying the day before.
Thank to everyone who voted in the Driver of the Day poll. We hope you enjoyed the race and all the coverage on F1i. Stay tuned for news and updates leading up to the Russian Grand Prix in two weeks time.
GALLERY: All the action from the Bahrain Grand Prix
Keep up to date with all the F1 news via Facebook and Twitter