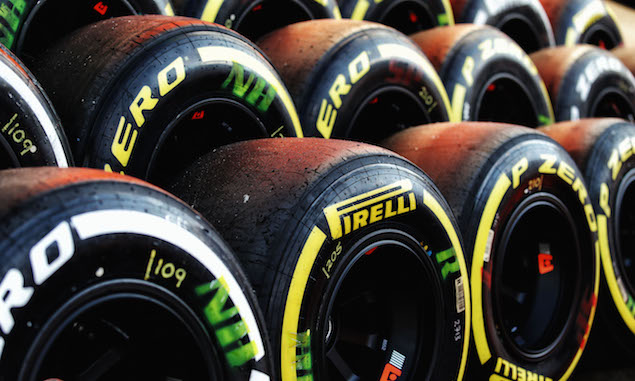 Pirelli has strongly rebuffed suggestions that it provided Mercedes with different tyres from the rest of the F1 teams at Singapore.
The latest wild speculation stemmed from Mercedes' sudden drop-off in form in last week's race. Having been consistently up to a second and a half ahead of their rivals in the season up to that stage, Mercedes were suddenly unable to achieve parity with Ferrari and Red Bull for the street circuit night race.
One conspiracy theory that has been circulating in the days since Singapore is that Mercedes had been intentionally given different tyres in order to to slow them down compared with the other teams, with even Mercedes' head of motorsport Toto Wolff admitting that such a thought had briefly crossed his mind at one point during the weekend.
But Pirelli has firmly and unequivocally rejected any such talk that it singled out Mercedes for different treatment at Singapore, and moreover explained that it would have been impossible for the company to have done so even if it had wanted to.
"Deciding which tyres are allocated to which teams, or when they are used, is a job taken care of entirely by the FIA once the tyres have left the factory," Pirelli's motorsport director Paul Hembery pointed out.
"It is just another way that impartiality can be ensured among all the teams, which has always been a huge priority for us as exclusive tyre supplier.
"The way that our team engineers work also respects this confidentiality, which is constantly of paramount importance."
In a press statement, Pirelli explained that during the production process at the Izmit factory in Turkey, each tyre was fitted with a barcode that is physically supplied by the FIA and which is firmly embedded into the structure of the tyre during the vulcanisation process so that it cannot be swapped and becomes the tyre's "passport".
A list of the barcodes is then sent to Pirelli's logistics and distribution hub at Didcot in the United Kingdom where computer systems randomly group the barcodes into blocks of four comprising two rear tyres and two fronts to make up a complete tyre set, and the list of blocks is then sent to the FIA who assign them to each participating Formula One car at random.
Pirelli added that it is not involved in this latter process, meaning that they cannot influence which tyres are allocated to which teams, or when or how they are used. A rigorous quality control process ensures that all the tyres leaving the factory are in any case identical.
Although every team is assigned an exclusive Pirelli engineer for the season, the database that the engineer works off allows them to see only information relating specifically to his or her team over the weekend so that individual strategies are not compromised.
REPORT: Kvyat edges Rosberg in FP2 at wet Suzuka
Click here for the F1 drivers' girlfriends gallery
Keep up to date with all the F1 news via Facebook and Twitter